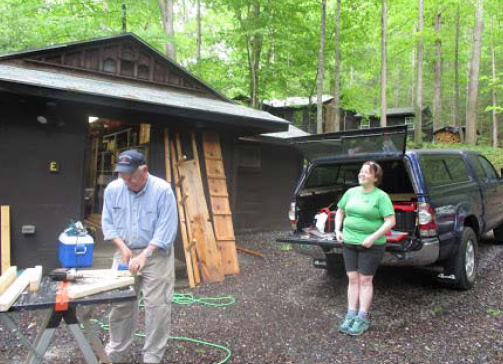 Information for Spring Service Weekend 2022 – May 20-22.  YAY!!!
Covid-19 has changed life as we knew it. There is a New Normal for every situation and Service Weekend at Camp is no exception.  Once upon a time it was just "show up".  Now, we need to know who is coming and to have a shared understanding about the level of risk we accept when we do show up.
Beginning with this 2022 spring Service Weekend, online registration is required so that we can accurately anticipate the number of volunteers and plan how to house and feed you safely. The registration form is available here:
https://app.etapestry.com/onlineforms/NatureCampFoundation/ServiceWeekend.html
Our common goal is to protect all members of our community; therefore, we ask that every participant be considerate of others.  All attendees must take a rapid test within 72 hours of arrival at Camp and be prepared to document a negative result with a photo or some other record of their test result.  Obviously, a positive result should keep you home.  
It should be manageable for all participants to get a test but all these methods for getting tests require some pre-planning. Go ahead and order today (fyi the government will send you free tests – Covidtest.gov) so that you have tests on hand when you need them. Schedule well ahead of time if you plan to go to a pharmacy.
Once you have 1) registered online and 2) taken a Covid rapid-test within 48 hours of arrival at Camp, and 3) taken a documentary photo of your test result, come on to Camp!
Once you arrive at Camp, we will
check your temperature
check your test documentation
check your waiver status
give you a wristband which identifies you as checked in and eligible for meals
Please do not visit with others until you have a wristband clearly identifying you as recently tested so that others can have the greatest possible peace of mind.
Masking while at Camp will be supported but completely optional. Everyone should make masking decisions based on their own judgment and no guarantee that others will be masked is being made. Any interaction with the general public poses an elevated risk of being exposed to COVID-19 and we cannot guarantee that you will not be exposed while in attendance at Camp.
This event, as ever before, is as much about building community as about maintenance tasks. Let's get together, and work, and support Camp, and have fun, and by our choices and behaviors be sure to demonstrate that we sincerely care for one another.