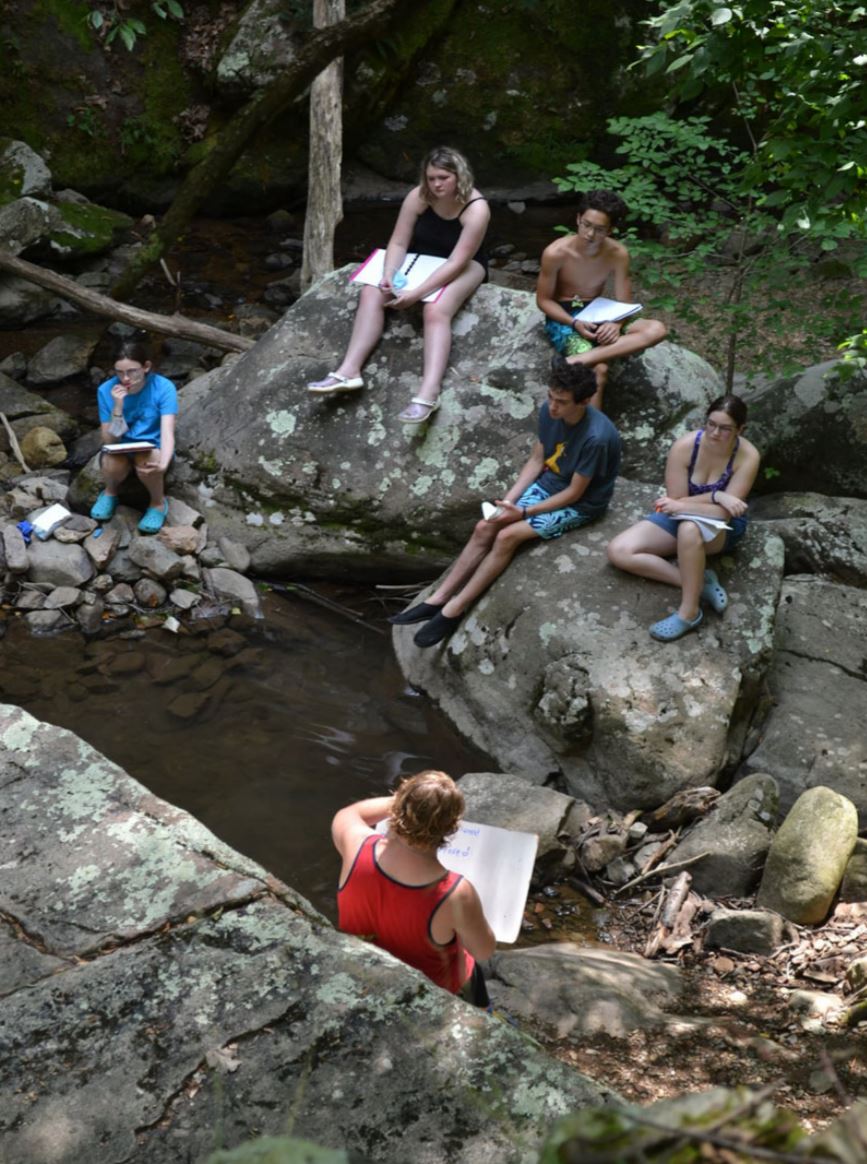 By Philip Coulling, NC Executive Director
It was a summer unlike any other at Nature Camp. We capped enrollment at 50 campers per session to allow for adequate and appropriate physical distancing, especially while sleeping and eating, and we shortened sessions from two weeks to 10 days so that we could add two more sessions to the calendar. The oldest campers were not in the first session of the summer so that we could avoid conflicts with high school graduations for the 18 (!) recent graduates who attended Camp. There were no outside speakers for evening programs or field trips off premises. Campers sat at meals and attended classes and evening programs by cohort: campers living in Shenandoah and Tidewater comprised the Mine cohort, while those in Southwest and Piedmont were in the McClung cohort. We adopted a schedule of chiefly minor classes for each session, in which the campers rotated through every subject in the curriculum before selecting a major for the last two or three class periods of the session. Campers were tested for COVID-19 in advance and upon arrival at Camp, everyone diligently wore masks when entering a building and when singing every night, and we washed hands more fastidiously than ever before. But it was still Camp. And it was so nice to be back in person in the place we all love.
While we were not completely full for every session, a total of 282 youth and 27 staff spent time in the Big Mary's Creek valley this summer, more than 40 percent of them for the first time (including 72 who were slated to come as new campers in 2020). They scooted down the slide at Table Rock, devoured "train wreck" and "dirty vegan" and grilled cheese with tomato soup, participated in "Sunday" hikes (albeit on a Tuesday or Wednesday or Friday), played volleyball and Mafia and lots of tetherball, and sang "The Cat" incessantly (at least in the younger sessions). They caught glimpses of a resident barred owl throughout the summer, awoke to the song of the wood thrush and were lulled to sleep by tree frogs and katydids, and even witnessed a northern water snake eat a brook trout one afternoon. And though we deliberately tried to spend even more time than usual outdoors, they enjoyed the spacious accommodations and revised layout of the newly renovated Education Building (which we can't wait to show off to the wider Nature Camp family once this pandemic is finally behind us). All in all, it was a remarkably successful, satisfying, and important summer.
We were thrilled to be able to end our summer with an Adult Session in August that saw 80 participants, including 31 for the first time, eight members of the summer staff and no fewer than seven former or current head cooks. In addition to learning about the "Language(s) of Nature," attendees used a two-person crosscut saw to make walnut cutting boards; observed numerous nocturnal caterpillars one night before an unexpected thunderstorm forced us all inside; saw a gyrfalcon in flight over the rec field; discussed environmental ethics, communication in plants, and the failure of parasitic wasps to evolve long-range hearing; caught fleeting glimpses of star clusters and nebulae through Terry Richardson's new telescope; and, as always, ate some fantastic food. Adult Session returns to the calendar next June (for the first time since 2018), with exact dates still to be determined.
We fervently hope that circumstances will allow us to resume our usual schedule of four, two-week
sessions at full capacity in 2022. Even—or perhaps especially—in the midst of a dreadful and tragic pandemic, Nature Camp continues to provide a balm for the soul, a crucible of learning and growth and acceptance, and an indelible source of hope for the future. Thanks cannot be said often enough to those whose financial and other support continue to sustain it.