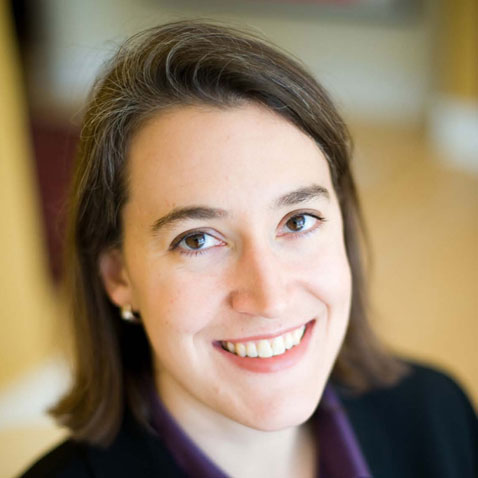 When Sarah Francisco was a young Nature Camper in the mid '80s, she witnessed something that had a profound impact on the way she saw the forest of her youth."They were doing a clear cut right up the road from camp, and the logging trucks would come by with all the logs coming out of the forest," said Francisco, 33. When counselors led a hike there to explore it, she got a shock. "The forest was gone, and there was just this tumbled array of logs and logging slash. You couldn't even really walk through the clear cut. You had to climb over everything. That had a really big impact on me, the experience of the forest and of having the forest be removed." At the time, she said, it might not have registered to her younger self as a watershed moment. "But it was this new piece of information to me about our forest."
Now, some two decades later, Sarah is a senior attorney at the Southern Environmental Law Center in Charlottesville, and leads SELC's national forests and parks program, working with the U.S. Forest Service and outside groups improve forest management and protect publicly held natural resources—including those she got to know and love as a camper.
Sarah grew up on a 200-acre Christmas tree farm in Augusta County, just south of Staunton. An only child, she spent much of her time outside in the woods, riding her horse around the farm, caring for the family sheep, and hiking with her dad. Always an outdoorsy kid, she loved camp and managed to go nearly every year she could. She has fond memories of a certain floppy-haired staff member. "I remember Flip as a counselor, playing basketball and leading hikes and trying to get campers excited about botany," she said.
Those years affected her deeply, even if she didn't notice it at the time. Camp was where she first began to realize that the wild places we love aren't guaranteed to stay that way. "I came home and put Save The Bay stickers on all our faucets," she laughed. "It really gave me a bigger understanding and a better perspective on environmental issues."
Years went by before that perspective started shaping her career path. She studied English as an undergrad at Mary Baldwin College, but after graduation in 1998, she was torn about what to do next. "I wanted to do something that I viewed as having a more concrete impact on peoples' lives and on our community and the world in general," she said. She ultimately decided on the University of Richmond's School of Law, and she had an epiphany when she took her first environmental law class in the spring of her freshman year.
"As I went through my years at Nature Camp, and at college, I got a better sense of the the threats to these resources and places," Sarah said. "And I always cared about that, but I didn't really see an avenue or a focus for that."
When she realized the law could give her the tools to protect those places that still meant so much to her, she was hooked, and once she learned about SELC, which is headquartered in Charlottesville and has offices in Tennessee, North Carolina, South Carolina, Georgia, and Alabama, she knew that's where she wanted to end up. She landed a fellowship in Charlottesville right out of school in 2002, and has been there ever since, driving across Afton Mountain each day from her home in Waynesboro.
Those 10 years have been marked by success and heartbreak, she said—but fortunately, it's mostly the former. The day-to-day work of environmental law isn't that thrilling, Sarah said. Few, if any, dramatic courtroom speeches, and a whole lot of reading, writing, and talking on the phone. But through that work, she has seen stronger protections put in place for Appalachian forest lands. One major victory was a challenge to a timber sale in the Cherokee National Forest in Tennessee, when the SELC won a legal battle to require the Forest Service to apply its own stricter forest management plan to a logging project.
Another was a successful negotiation with the Boy Scouts of America to scrap plans to permanently site the group's National Jamboree on sensitive land near Goshen Pass. That one never made it to the courtroom—and that suited Sarah fine. It's not always about a fight, she said. Just as often, it's about finding common ground with the Forest Service and others who, on the whole, share a lot of the same values. Sometimes it happens out in the woods themselves, on field trips to look at forest lands in question.
"We can almost always come to an understanding or reach an agreement," she said. Still, things don't always work out the way she'd like, even when SELC wins a battle. The Cherokee timber sale the organization fought to limit is a good example: The Forest Service had to adopt stricter protections, and Sarah said she believes forest management has improved across the board since then. But the sale still went forward, and important and beautiful forest lands were destroyed completely.
She continues to work to improve the system and make sure there's accountability. For the last few years, she's spent countless hours following the creation of a new management plan for the George Washington National Forest. The plan, which is expected to be approved by the Forest Service by the end of the year, will lay out how the government and industry can use the GW's natural resources. There's a lot at stake, including the possibility of unprecedented oil and gas exploration. It's fitting, she acknowledges, that she's fighting for the same forest she came to love—and wanted to protect— as a camper. It makes her think about the words of a Tennessean she met while battling the Cherokee logging project, a man who remembered the woods they were trying to save from his Boy Scout days.
"He said, 'We're seeing the forest the way it could be and it should be,'" Sarah said. "That stuck with me. That's what we're trying to do. We're trying to protect and conserve the southern Appalachian National Forests for what they can be, and they should be."
– Interview by Graelyn Brashear