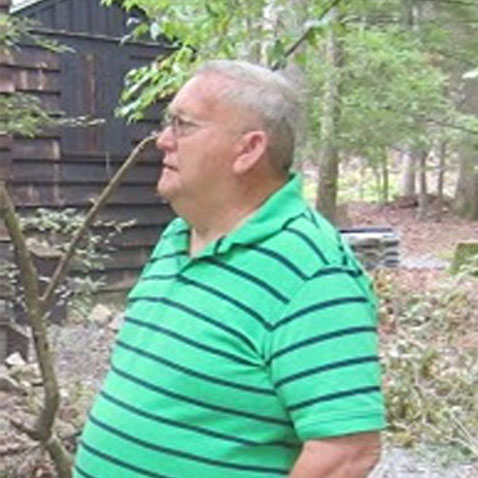 One of my great regrets in life is that I never got to know Sam Lavender very well. Sam was the caretaker here at Nature Camp for my seven summers as a camper and my first two years on staff, but he spent much of the last summer of 1987 at the Veteran's Administration hospital in Salem, receiving treatments for the lung cancer which would claim his life that November. My interactions with Sam were almost nonexistent during my shy youth, and he was generally quieter and kept more to himself than those who have since held the position of caretaker. But I wish that as a counselor, I had taken greater advantage of the opportunity to listen to some of his stories and absorb some of the wisdom of his six decades.
Sam Lavender grew up "on the other side of the mountain," in Amherst County. I know little of his early life, but rumors and inference lead me to believe that his family's means were modest but genuine, that he lacked much if any formal education beyond elementary school, and that he may have done some rather wild things in his formative years, before he arrived at Nature Camp. While separating truth from fiction is not easy, nor is it important, however, for my impression of Sam is colored much less by who he might have been in his youth and much more by who I know he was as an adult and by the influence he exerted on Nature Camp and those with whom he worked here.
When Nature Camp moved to the Big Mary's Creek valley in 1953, the staff did not include a full-time, residential caretaker. The man who built all of the original buildings, Ollie Groah, served largely in the capacity of caretaker during the first decade at this location, but he did not live here and was not able to keep continuous watch over the property when Camp was not in session. Both the Virginia Federation of Garden Clubs, which founded Nature Camp and oversaw its operation through 2006, and the U.S. Forest Service, which leases approximately six acres of the George Washington National Forest for use and occupancy by Nature Camp, expressed concern about the lack of a year-round presence on the site. Both organizations therefore sought to find a permanent caretaker who could not only manage the facilities during the summer, but also maintain the road, deter vandalism and unwanted visitation, promptly discover storm damage, and otherwise keep an eye on the property in the fall, winter, and spring. So Sam Lavender was hired in 1964 as Nature Camp's first caretaker, and he and his family were the first occupants of the newly constructed cottage on the hill above the canteen.
Several other persons have served as caretaker after Sam's death—Bob Goodman, Blair Smith, Brian Falls—and I do not wish to diminish their contributions or understate their value to Nature Camp. But when, in the fall of 2005, we found ourselves again in need of a new caretaker, we were exceedingly fortunate and blessed to find Charlie Truxell. Like Sam, Charlie grew up not far from here, but in the Valley of Virginia (Greenville, to be specific, a few miles north of Nature Camp, in Augusta County) rather than the Blue Ridge. Charlie has held numerous jobs over the years—in carpentry, electrical repair, and sales, to name but a few—and most recently worked as facilities manager for the Montessori School in Greensboro, North Carolina, before he and his wife, Priscilla, moved back to Virginia.
An exhaustive litany of the contributions which Charlie has made to Nature Camp in his eight years as caretaker is beyond the scope of this article and would overtax my ability to catalog. During that time I have often in my mind compared Sam and Charlie, and while such an exercise is perhaps unfair to both of them, I cannot help but find many similarities in their personality, character, and influence. Allow me to address a few of these.
One, both Sam Lavender and Charlie Truxell were or are men of great honor and unquestionable integrity. Former Nature Camp director Col. John H. Reeves Jr., who worked with Sam for 16 years, stated in the eulogy he delivered at Sam's funeral that he never heard Sam "utter single word of derision against anyone. You could easily tell if he disagreed with something for he had a way of saying 'Aah' and characteristically shaking his head. If you knew him you knew that there wasn't much point in pursuing the conversation further." Like Sam, Charlie has a phenomenal work ethic and almost never complains about the task at hand, regardless of the time of day or night that it beckons him, even when he has to perform the same repair over and over because of someone's negligence, oversight, or forgetfulness. I know that there have been many times when I have let Charlie down, and I have felt more shame and guilt about doing so than if I had disappointed my own parents. His careful eye and diligent oversight during major renovations to the electrical and plumbing infrastructure at Camp a few years ago helped keep the project on schedule—and the contractors in line—and ensured that the work was completed before the summer began. It was chiefly for this reason that Charlie was inducted in 2006 into the Nature Camp Roll of Honor, which recognizes individuals who have made extraordinary, non-monetary contributions to Nature Camp.
Like Charlie, Sam also had remarkable knack and ingenuity for solving problems. Scot Marsh, a VMI cadet whom Colonel recruited to serve as assistant director one summer (and whose son now attends Camp) once remarked, "Sam Lavender can take a piece of chewing gum, a little wire and a pair of pliers and fix almost anything that's broke." Compared to these days, Nature Camp operated on more nearly a shoestring budget during much of Sam's tenure, and his ability to improvise and devise ingenious and inexpensive solutions to problems that arose was essential. Charlie probably has a more extensive toolkit of practical skills such as carpentry and electrical expertise than did Sam, but his inventiveness and ability to think "outside of the box" have proven at least as valuable as his knowledge and experience. For example, using inner tubes he jury rigged a clever means of preventing leaves and rainwater from collecting in the pool over the winter, and he always seems to be able to find the right part to replace a broken piece of equipment, even if it's altogether different from the original component that malfunctioned.
Sam and Charlie both consistently exhibited exceptional generosity of their time. Lars Nelson notes that Sam used to assist counselors and campers in constructing items for classes and that he would willingly make available space in the garage and tools for their use. Colonel recalled the episode of a camper who lost her contact lens in the swimming pool, but "after it made its journey through the pool's circulatory system, Sam saw that she got it back." Similarly, Charlie has freely given of his time and talent, such as when he built a "beetle farm" for a class several summers ago (which the geology class used this year to display the soil profiles in the lab) or created a disk suspended from the ceiling in the garage and on which last year's astronomy class projected images of the night sky. I don't know how many vehicles belonging to staff members Charlie has worked on free of charge over the years, and he has initiated several projects entirely of his own volition, including making holders for paper and cotton towels in the kitchen and arranging decorative stone around the base of the new flagpole. Charlie has worked countless hours to reestablish grass cover on the playfield and almost single-handedly put the kitchen back together after the floor, ceiling, and dishwasher were replaced two winters ago. And after he noticed that few campers were swimming in the cold pool one of his first summers here, he and Priscilla purchased and donated the thermal covers which we now use to retain heat at night.
With deep roots in this part of western Virginia, Charlie and Sam could both tell colorful stories of the history of this area and its inhabitants that time has, unfortunately, largely forgotten. Colonel noted, "It was a real treat to go along on a field trip in the bus, for as we drove through the back country, [Sam] would recall people and events that had lived or occurred at places where structures no longer existed." Many staff members could share similar memories of excursions with Charlie. Almost immediately upon joining the staff last summer, Peter Shepherd developed a strong bond with Charlie, which he attributes to the shared family heritage in the Valley and congruent ideologies.
Both Sam and Charlie were walking encyclopedias of knowledge and wisdom that don't come from books or formal education, but only from years of experience and careful observation. Sam's knowledge of the natural world, especially the uses and locations of wild plants and mushrooms, could have filled several classes at Camp. He knew how to prepare New Jersey tea and where to look for morels in the spring, but his favorite plant was ginseng, and he cultivated several patches in and around Nature Camp over the years. I'll never forget the time that Sam taught several of us boy campers how to recognize black oak by exposing the characteristically orange inner bark on the tree in front of the Boys's Bunkhouse. Charlie has a similar affinity for nature and loves to tell of his encounters with wildlife in and around Nature Camp. Peter's favorite story is the time Charlie was returning to Camp and stopped to let a bear cub cross the road in front of him. After the bear had reached the other side, it paused, and Charlie and the cub proceeded to carry on a "conversation" for about 15 minutes.
But most notable of all, Charlie, like Sam, is a man in whose company one cannot help but learn something. Looking back on his earlier years as a counselor, Lars fondly recalls days off when he would forgo the DOP and remain here to spend several hours sittng with Sam on the porch of the caretaker's house, sipping instant coffee, and looking quietly down upon Nature Camp. Sometimes they would talk, but often they would not say anything for long stretches. Sam practiced an economy of words, which is to say that he often didn't say much, but even in silence, he could impart wisdom. Lars has come to realize that Sam embodied a serene life, one lived peaceably and contentedly with his fellow human and non?human inhabitants of this earth. Charlie tends to talk more than Sam did, but even a few words from his mouth go a long way and carry considerable weight.
If there is one lesson we can gain from Sam and Charlie, it is to take the time to learn from your elders, ask questions of them, and listen to them when they speak; they have a lot more to teach you than you may think.
Sam Lavender and Charlie Truxell are two of only a small handful of persons to hold the title of caretaker of Nature Camp, but in a sense all of us here are called to be caretakers, for what Nature Camp strives to do is to inspire and train us to care for this planet and for God's wonderful creation. We are truly blessed to have had in our midst such extraordinary gentlemen as Charlie and Sam, and I hope that even though virtually none of you knew Sam and most of you barely know Charlie, you may nevertheless find inspiration in their exemplary service to Nature Camp and in the manner in which they have led their lives.
We wish Charlie and Priscilla well as they head into well deserved retirement and south to Florida for the winter. We thank you for everything you have done for Nature Camp, and we shan't forget about you.
Godspeed, dear friends, and as Colonel used to say, "Y'all come back now, you hear?"
– Interview by Philip Coulling