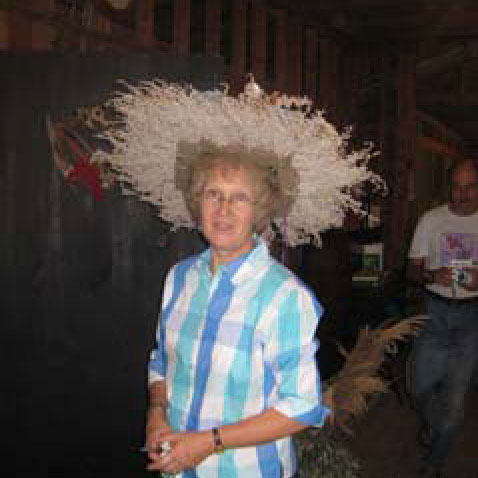 Things were different at Nature Camp in Nancy Lowry's day.
When she arrived as a 10-year-old fourth-session camper in 1959, counselors didn't teach classes—that was the purview of the professors and other experts who stayed a few days at a time to lecture. Everybody slept on straw-stuffed ticking sacks instead of mattresses, an Episcopal priest gave communion at the chapel on Sunday, and campers filled their tin cups from a massive milk dispenser at mealtimes.
And there was no Percy story.
There were yarns told around the campfire, certainly. Lillian Schilling would bring in someone from the Forest Service who told deliciously terrifying ghost stories, Nancy remembers. But the iconic camp tale of the oozing, deadly slime monster that left skeletonized pets and catatonic counselors in its wake didn't exist yet. She knows, because the story started with her.
When she was 15, Nancy was heading into what promised to be her best summer at camp yet. She had her lifeguard certification, which meant she could return for third and fourth session as a junior counselor. But first, early in the summer, she went on a Presbyterian youth retreat at Albemarle County's 4-H camp.
"It rained the whole time, and it was horrible," she said. Cooped up in their leaky bunkhouses, she and a friend would try to out-scare each other.
"We told stories about this wet, rainy time when slimy, nasty things were coming out of the leaf mold in the woods," she said. "They were odiferous, and they were horrible, pungently nauseous things. Probably because I'd learned about mushrooms and things from Nature Camp."
The creepiness coalesced around a single character. They gave him a cheery moniker—Percy Puke was his full name—in direct contrast with his killer nature. And when Nancy got to camp later in the summer, she brought Percy with her.
As a junior counselor, her duties included helping out in the kitchen (she worked alongside an assistant cook named Sandy—but that's a story for another issue), and like all the staff, she was in charge of a table full of campers at mealtimes. People filed up one by one for individual plates in those days, so it took some time for everybody to get their food.
"To make sure that my campers were not unruly, I would tell them stories," she said. "Telling them any old story wouldn't work." It had to be gripping stuff to keep a hungry bunch of kids in their seats. She pulled from the classics, especially the dark and macabre. And then there was her slime monster, whose story took on a local flavor.
"He would come at night to the cabins and seek little puppy dogs, or little cows or sheep, and he worked his way up to humans," Nancy said. "He would drain all the liquids from their bodies and leave the desiccated carcass behind, like a glove without anything inside it. Wherever he went there was this odor, this putrid odor that preceded him and was left behind. But it only happened when it was very rainy. And of course, at Nature Camp, along about fourth session, it rains a lot. You get that funky smell. So it made for a wonderful scary story."
Percy always did the trick. "It would keep their attention," she said. "I told a truncated version that would take up 20 minutes, until Mrs. Schilling rang the little bell. And then it grew."
With new installments came new details. The Cash family, who lived down the road, got involved. They started losing animals.
"They would go out with guns to try to hunt this thing, and once in a while, a Cash would disappear, too," she said. "It was kind of a rambling story that didn't really have an end, because it had to be around for the next crop of campers, to scare them to death."
For three years, until her last summer on staff in 1966, she embellished the Percy tale. Then she all but forgot it. Decades later, when Nancy had kids of her own attending camp, she was astonished to learn her old story was still circulating, and had been elevated to campfire status.
"What really hit me upside the head is when the bumper sticker came out that said PERCY LIVES. I said, 'No way!'"
She's not sure how it happened, or the origin of some of the details today's campers can relate in hushed tones: That the monster was named for a brave Forest Service employee, Ranger Rick Percy, who mysteriously vanished while looking for the Cash cow-killing culprit; that Mrs. Schilling's own beloved dog, Ferncliff, was reduced by the slime blob to a bleached skeleton in the woods by the path to Table Rock; that one Lyt Wood spied a squishy mound with gleaming eyes moving slowly down a swollen Big Mary's Creek in the wake of Camille in 1969.
She guesses a kid at one of her tables became a counselor a few short years after first hearing the tale, and it grew from there.
"The name is what he kept up," she said. "And the horrible, smelly, slimy monster."
There's a long list of things Nature Camp owes to Nancy Lowry. She's fostered a multi-generational love of the place, and a commitment to serving it. She was a founding member of the Nature Camp Foundation. And she created a monster.
And how does she feel about that?
"I'm very proud," she laughed.
It's your turn to share, Nature Camp alums: Do you recall the story from your camper days? Did you tell it as a counselor? Tell us what you remember— and from when—on the Nature Camp Foundation Facebook page! Look for a posting of this article and then share your stories!
– Interview by Graelyn Brashear