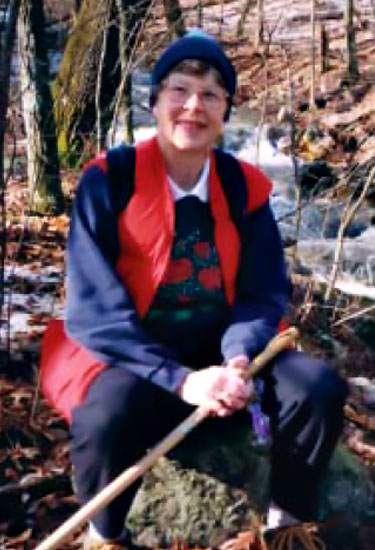 "We were big on characters," laughed Mary Jane Gannaway Layne as she recounted her experiences at Nature Camp during an oral history interview in 2013. She illustrated that fact by describing some of the most colorful characters she encountered during her days as a camper and counselor. There were many stories. One was about Charles Thornton, whom she first met as he was bicycling up the dusty road from Lake Sherando, with everything he owned sticking out of his backpack at crazy angles. He had been in the army and had just graduated from UVA. "He knew everything about everything," she declared. "He could have taught any class there." He was a counselor in 1947, her first year at Sherando. There was Bill Keeton, who attended E.C. Glass High School in Lynchburg with her, and who read Mary Jane's piece about Nature Camp in the school's literary magazine and decided that he just had to go. Keeton later became a professor of biology at Cornell. He married a fellow Nature Camper, and their children also attended Camp. And there was counselor Doris, "The Snake Girl" about whom Mary Jane shared a story:
Doris caught a blacksnake and put it in a cage. They named it Henry. She kept him up in the cabin. They all came in one night and Henry was not in his cage. Everybody had to stand still and look around and see if they could find Henry. They found him wrapped around a broom handle in the corner, looking at all these people standing still. Doris put him back in the cage and the crisis was over. Then, all of a sudden, there were all these little eggs in the cage. They quickly changed his name to Henrietta. I imagine they took her out in the woods and found a nice, snaky-looking place and let her have her babies out [there].
Of course, though she remained modest about it, Mary Jane herself is quite an important character in the history of Nature Camp. She began her association with Camp in 1947, when she attended first session at Lake Sherando. She was elected Best-All-Around Camper. The following summer, she was invited to stay on as a counselor. Even after marrying her "sailor," Charlie Layne, she continued to support Camp. Mrs. Schilling appointed her to the Nature Camp board, on which she served for a number of years. After that, Mary Jane—a staunch Garden Club member herself—traveled to other clubs, making presentations about Camp and encouraging other members of the Virginia Federation of Garden Clubs to lend their support. Eventually, she became Membership Chair of the newly-formed Nature Camp Foundation.
Perhaps one of Mary Jane's biggest contributions to Camp came as the result of having to work elsewhere during the summer of 1952. Camp was closed because the lease at Sherando was up and the buildings in Vesuvius weren't ready for occupancy. So Mary Jane went to work at Stony Mill Girl Scout Camp for the summer, recruited by her new friend Nell Hamlin (mother of our own Nell Jefferson Fredericksen). It was there that she first experienced singing "Follow the Gleam" while floating candles down the nearby creek. "I thought that was a nice tradition. They had a couple of counselors down the creek a ways to catch them. We let them float on off into the world. So when I came back to Nature Camp I told my friends there about it." Her friends liked the idea, so they put it into action and this lovely tradition continues during every closing ceremony at Camp.
Mary Jane shared plenty of interesting facts about the early days at Camp. Mrs. Schilling, she noted, thought that counselors should work at Camp just for the love of it. They weren't paid a salary. Though Stony Mill offered counselors $75 per summer and Nature Camp didn't pay, Mary Jane elected to go back to Nature Camp when it reopened in 1953 on the current site. She remembered that the boys' bunkhouse still wasn't complete that summer, though the T-houses were functional. "They strung blankets across one end of the LS," she noted, "and the male counselors and 8 male campers stayed there." She loved the field trips, reporting that her "group at Sherando liked going in the back of a large dump truck to the fire tower. You got a little card that showed you were a member of the squirrel club because you had climbed the fire tower. We took picnics." Those trips continued after the move to Vesuvius.
Peggy Layne, Mary Jane's daughter and another active member of the Nature Camp community, comments that her mother was "always a nature lover. She used to take us hiking along the Blue Ridge." When I prepared to interview Mary Jane for the history project back in 2013, I was interested to see that Mary Jane's email address included "hpihkr." According to Peggy, this was because Mary Jane's interest in nature and the outdoors extended beyond her work at Camp. She was active for 25 years in the Natural Bridge Appalachian Trail Club, hiking until she was 75 years old. She and her fellow "Happy Hikers," as they called themselves, eventually covered the 88-mile stretch of the Appalachian Trail that runs nearest to Lynchburg, though they did so in 5- and 7-mile stints that were scheduled in between school pickups and all of the other responsibilities that busy mothers and grandmothers juggled.
Asked how her mother might like to be remembered by the community, Peggy noted that her mother was always modest about her work on behalf of Nature Camp. Her contributions were anything but modest, however, and she remains a very bright spot in our history. Mary Jane Gannaway Layne, though we lost her this past August, remains an inspiration. As we look forward to Camp's bright future, it's critical that we honor people like Mary Jane, whose contributions have helped to create the gleam that we follow today, both literally and figuratively.
– Interview by Katie Hoffman