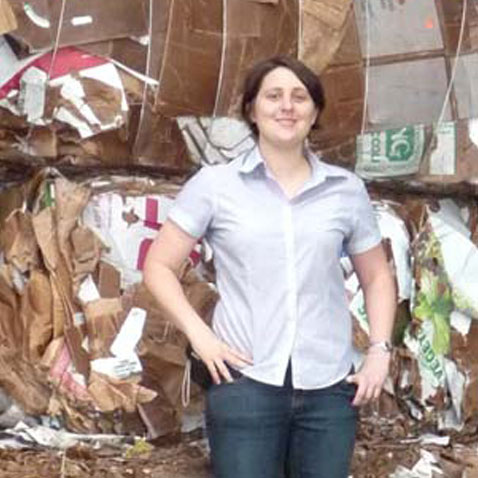 As we all know, Nature Camp has an important impact on the attitudes and outlooks of all of us that pass through this place. In this issue we are going to introduce you to a former campers who exemplifies the influence of a summer (or several) at camp and show how that influence can lead our youth to carry that knowledge into their lives and impact the lives of others.
Annie White is the Director of Global Green's New York office and Coalition for Resource Recovery where she works with businesses and city governments to find ways to cost-effectively recycle or recover the value in materials that currently aren't recycled, like paper coffee cups, paper food packaging and food waste. To do this she convenes businesses, academics, and city government both to learn about and better understand the opportunities for redesigning materials to make them more recyclable and to recycle them. She uses New York City, the largest city in the U.S., to pilot these new waste diversion technologies and solutions with the goal of identifying solutions that reclaim the value in resources, reduce greenhouse gas emissions, save companies money, and can be implemented in cities throughout the United States. She has worked with leading companies such as Starbucks Coffee Company, Solo Cup Company, and Waste Management.
From 2003 to 2005, Annie served as the founding executive director of GreenBlue's Sustainable Packaging Coalition, an industry working group dedicated to realizing sustainable packaging solutions through supply chain collaboration. The Sustainable Packaging Coalition has grown from its nine founding member companies to over 200 members, and has been lauded as "one of the most influential groups in packaging." While working with McDonough Braungart Design Chemistry and through independent endeavors, Annie has consulted with Fortune 500 clients such as Walmart, Ford, and Nike on issues including: sustainable products and packaging; recycling; and sustainability reporting and communications. Annie earned an MBA from the Ross School of Business and a MS in Sustainable Systems from the School of Natural Resources and Environment at the University of Michigan. She also holds a dual BS in Biology and Environmental Science from the College of William and Mary.
When Annie was at Nature Camp, she never intended to work with businesses; in fact, she wanted to be an ornithology professor and taught it for three summers while on staff and majored in biology and environmental science at William and Mary. While at William and Mary, she wrote a paper on Rachel Carson's life and was fascinated by her ability to be a sound scientist and communicate these thoughts and ideas to lay people to encourage them to take actions to better conserve resources and create a more sustainable world. Annie felt that Rachel Carson's life embodied that which we were taught and what she loved about Nature Camp – the importance of sound science and communicating what was learned to a broader community so that they too can become good stewards of the earth.
What she never expected was that she would study how industrial systems could mimic those in nature, a field called industrial ecology, and that her audience would be the business sector. Industrial ecology is modeled after the field of ecology, noting that in nature, waste from one system is food for another and that material systems can be designed that utilize renewable energy and are made of safe and healthy materials that feed other systems. If we could design the products and systems we use every day to fit within this paradigm, we would come a long way in solving current day environmental problems. Annie's training in ecology from both Camp and college helped her to contribute to this field and advance the concepts of industrial ecology and sustainable design while working in Charlottesville for McDonough Braungart Design Chemistry. Through working with businesses, she discovered that there were environmental champions throughout these organizations that wanted to be better stewards of the earth and that her role was often that of a teacher or a coach, helping those within companies to develop better environmental solutions and to provide encourage and moral support to persevere to create and change within their organizations. This role as teacher and coach in many ways is similar to being a Nature Camp counselor.
When reflecting on her career and the ones of those with whom she works, Annie recounted how Colonel Reeves during closing ceremonies would talk to the campers about how whatever they become, whether a doctor, lawyer, musician, artist, or parent, they can take the values and lessons learned at Camp to help make the world a better place and protect the environment. These words showed the value of all of these professions and vocations in the community and Annie feels this reminder gave her the license to try an unconventional path to embodying the principles of Camp as well as serving as a reminder that those with whom she works also have the opportunity to do the same.
One aspect of Annie's job is to plan, host, and moderate conferences on resource recovery two to three times a year and Annie says that her style of teaching is a skill she honed as a counselor. And, the pilot programs that they conduct are essentially field work, but in an urban setting.
To read more about all that she does here are some links:
http://globalgreen.org/blogs/global/?p=3557
http://thecorr.org/NYC%20Council%20Testimony%206_30_2011_.pdf
Some of the best management training Annie ever received was from being a counselor at Nature Camp. Being a part of the Nature Camp Foundation continues to inspire and ground her, reminds her of what's truly important in life, and why it is so important that we continue to work to create a more sustainable world.
Annie was a camper from 1991 – 1993 and was on staff from 1994 – 1997.
– Interview by Graelyn Brashear