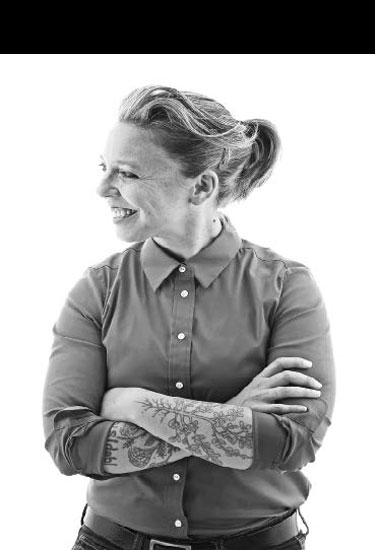 The first time Erin McKeown went to sleepaway summer camp, she hated it so much she tried to mount an escape. The Fredericksburg native was at a summer academic program run by UVA in Charlottesville, and she was having a terrible time. During an outing at a private school, she told a teacher she had to use the bathroom, "but I went to the payphone in the lobby and tried to call my parents to say, 'Come and get me out of here,'" she said.
Her mom, who was an active Garden Club member, heard about a different camp that sounded like a better fit for the following summer. From her first day of Fourth Session, McKeown knew Nature Camp was something else entirely. "Right away I remember feeling at home," she said, and she never missed a summer after that. "It was always the best two weeks of my life."
Today, McKeown is a successful musician, though that term is too narrow to describe the arc of a career that's been referred to as "many-hyphened." The genre-bending singer-songwriter has sold more than 100,000 albums since her 2000 debut and played Bonaroo, the Newport Folk Festival and venues across the continent. She's produced or co-produced most of her own albums, taught writing workshops, co-written an original musical that premieres this fall and over the summer will join the live tour of the popular podcast Welcome to Night Vale.
She traces it all back to that first crucial summer in Vesuvius. "I would not be a songwriter and a musician if I had not gone to camp," she says. McKeown grew up taking piano lessons, but it wasn't until she saw counselors strumming during evening program and rec periods that she really felt inspired to make music. "I was just so taken with that," she said. At the same time, she felt at home at camp in a way she never had before. "I could be myself and that was OK," she says. Growing up, she never felt like a cool kid, or even a normal kid. "But when I was at camp, I felt like we were all cool kids. It was such a great inversion of how I felt at home."
She wanted to hang onto that feeling. "After my first summer, I really wanted to remember the feeling of camp and of singing those songs," she says. "That's how it started with me—wanting camp songs throughout the year."
Back home in Fredericksburg, she picked up a songbook and a nylon-string guitar at a music shop and got to work. The guitar and her new repertoire came with her to camp the next summer, where she found that the same people who taught her about plant ID and limnology were great music instructors, too. Some talented players took an interest in helping her improve. Steve Vargo, Matt Bain, Joe Cleary, Amber Shiflet Cook, Flip Coulling and others taught her new chords and new songs, "and I would just eat it all up," she says.
She wrote her first song at camp, inspired by a protest against the construction of a dam on a Quebec river by the Indigo Girls, the folk duo whose ballads have been songbook standbys and bunkhouse lullabies for decades. McKeown remembers that first song itself as nothing special. The experience of performing her own music for the first time, though, was a milestone, and it was the comfort and camaraderie of camp that made it possible.
"It was years before I ever did that professionally," she says.
Her years at camp also instilled an enduring love of science and the natural world, and when she headed to Brown University, she had plans to study biology. But her interest in songwriting and performing grew in her college years, and she knew her future lay in music.
For McKeown, there's a common thread in a love of science and a love of art, and it winds its way back to Nature Camp.
At camp, "science was super warm and collaborative and communal and alive," she says, and so was every other part of the day. "I didn't see a difference between the way we sang songs after dinner and the way we felt on Sunday hikes, or the way it feels to go out with a wildflower guide."
And as a songwriter, the way the wonders of the natural world were taught at camp still resonates with her. Class wasn't a barrage of cold, hard facts. "It was sort of in a storytelling context," she says, "not just information for the sake of information, but information as part of a big story—how the earth is evolving, or the way climate change is affecting the earth, or the life cycle of a bear."
Most importantly for her, all those formative experiences and all that learning happened in a place where she felt not just accepted but celebrated and loved for who she was. For her, being the kind of person who eagerly points out a lichen to friends on a hike and being a musician are both outgrowths of the same joyful summer experience. Camp was a place where she was made to feel "totally awesome just as I was," she says. "I didn't have to be more this or less that. It was the feeling of letting your freak flag fly, except that your freak flag is a lab with snakes in it, or a library with Newcomb's Wildflower Guides, or songs you sing after dinner. It was that sense of self and feeling, and for me, I wanted that forever."
And it has lasted. McKeown still feels and fulfills a deep need to be in nature regularly. She keeps up with her friends from her camp days, and she'll be helping teach the string band class at the 2016 Adult Session from June 9 to 13, something she's done before and loved. And she keeps a framed certificate on the wall of her home in western Massachusetts, now battered and water stained after surviving a flood: her Best-All-Around Camper award, a daily reminder of the place "that completely changed my life."
– Interview and article by Graelyn Brashear