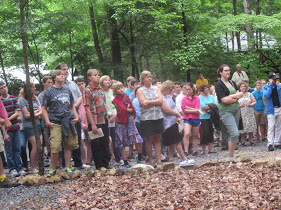 On Saturday afternoon of Fall Service Weekend, we all stopped work to gather at the Gus Deeds Memorial Pavilion in fellowship and gratitude to celebrate renaming what will soon become an even more important and useful space at Camp: The Mary Jane Gannaway Layne Museum. It was my honor to open and close the proceedings, which memorialized Mary Jane's numerous and substantial contributions to Nature Camp. Several members of the Layne family attended, and Peggy Layne—Mary Jane's daughter, a former camper, and a former member of the board of Nature Camp Foundation—spoke on behalf of the family. She introduced the other members of her family and explained why they felt that making this gift to Camp in memory of their mother was such an important way of honoring their mother's legacy.
     Flip Coulling, our Executive Director, eloquently explained the history of the museum and the rest of the educational building and its role in Nature Camp's history. Annie White, President of the Nature Camp Foundation, and Amy Gonzalez, President of Nature Camp, Inc., made a few remarks regarding the importance of this gift and how it will enable us to serve future Campers. Walter Mehring led the community in singing both "Thinking of Tomorrow" and "Follow the Gleam," and Gary Barker was recognized for his painstaking and loving work in carving and decorating a beautiful sign for the newly renamed space. Nancy Lowry and Joanne Hutton created floral arrangements that added just the right celebratory touch to the ceremony and to the reception afterward.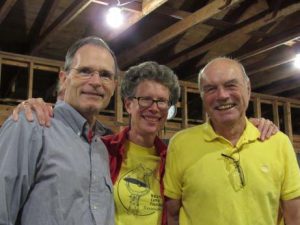 Nell Fredericksen coordinated the food for the delicious spread, which was (as is always true for Nature Camp) a crucial part of the celebration. We adjourned to the porch of the Education Building which gave folks an opportunity to investigate the preliminary improvements already made in the museum. After stuffing ourselves with Nell's great party food (prepared with able assistance from Caroline Parlett, Kim Lanzarotta, Mary Frances Mays, Gisela Carson, and Art Maguire), we reconvened in the LS for a traditional Saturday night repast of pizza twenty different ways. Dessert was two cakes, beautifully decorated with a tree motif that continued the theme of the ceremony program: Mary Jane Gannaway Layne's role in fostering the roots of Nature Camp, becoming a part of the strong trunk that supports our community, and, with her family's contribution, extending the branches of environmental education even further through new growth.
     Our gratitude to the Layne family, who have given us such a great reason to celebrate Mary Jane. We look forward to more celebrations as we continue with the Education Building Project.
– Katie Hoffman with Amy Gonzalez