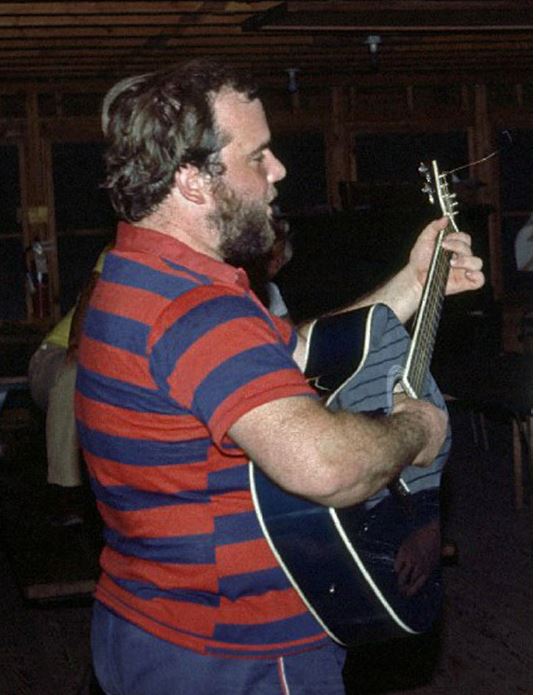 As you may recall from our last issue, our Nature Camp family lost Joe Garvin. This hit the NCF and NCI board members extremely hard as Joe was serving as NCI Vice President – sharing his wisdom, kind heart, and that incredibly amazing laugh. So we decided to ask some of those that knew him best to share some of our many memories of Joe. John Diller, Katie Hoffman, and Ann Garvin Johnson (Joe's sister) share their stories. I (Nell Fredericksen) for one, was thrilled to reconnect with Joe after so many lapsed years and to have him working with the NCI board. Like so many others, my musical education was due to hearing Joe play and sing and then buying albums at the end of the summer based on the list of songs he sang. I must have learned well since he would pop by at regular intervals and borrow albums during our grad school years at VA Tech. A few years ago, I was in the kitchen cooking for Service Weekend when Joe came back onto the scene. There was this white-haired guy that came through the food line, said "Hi Nell!!" I said hi back but did NOT recognize who that was. Then from out in the LS I heard that laugh – and knew Joe was here. I scared everyone in the kitchen as I squealed and ran to the LS to find Joe, that white haired guy, and gave him a huge hug. I cherish the time that that we spent chatting about a whole lot of everything and I will forever miss that laugh.
John Diller:
Joe and I came on staff together after first session the year after he won Best All-around Camper. Having started in fourth session at the same time we were good friends by then, especially after several first sessions. The campers loved him. The kitchen became an all-day locus for music after Gerry Wass initiated the tradition of veteran counselors running the kitchen. When he was ready to move on, he asked Joe and I to take over. I was nominally the head cook, but we made all the decisions together. Joe put his stamp on the musical atmosphere, notably emphasizing the broad importance of Bruce Springsteen that many of us had somehow overlooked. With detailed analysis, while mixing pancake flour and various concoctions, we determined (definitively) that "Layla and Other Assorted Love Songs" was the best album in the universe. More to the point of cooking, he maintained the growing recipe book, had good ideas, and was very patient in accommodating special food requests we occasionally got. We organized a "cooks' class" in ornithology the second year, the only time we taught together, though for practical reasons not always at the same time. We had some troubles with starches cooking on time, and some meals got held up. These unfortunate events led to the "Uncle Ben Converting the Rice" skit with Colonel Reeves as the spiritual leader.
Some say a picture is worth a thousand words. Over the last 8 months I have spent a lot of time looking at photos of Joe. Most pictures include a guitar and then a song will go through my mind. He was always playing music for me and saying, "Have you heard—– I think you'd like them". Of course, most conversations were about the Boss- Springsteen of course! He would always get the newest album on day one of the release. Joe had a wide range to his musical repertoire which most people do not know. My earliest memories of Joe playing and singing are when he was part of a group in our church, then I started going to Nature Camp and got to listen to Joe nightly at evening programs.
Ann Garvin Johnson:
These moments are among my fondest and most cherished. I loved to hear Joe play his guitar and he played it so much at Camp it was a treat! He would cringe when anyone would ask for "the Cat" and he looked as if he was tired of singing "Rocky Raccoon" but he usually humored us all and sang them anyway. One counselor talent night Joe told me he wasn't going to sing or play- he was tired and didn't want to. I threw a major little sister fit but he said NO. Then during the show, out he walks- guitar in hand and his smile that I miss so much today and he starts to play the song I had requested. I was so surprised and happy- I had the coolest big brother. Years later Joe surprised me again by bringing his guitar to my wedding reception, telling the band that he wanted to play something and singing a special song- Joe was always full of surprises.
I never understood the magic of Nature Camp but I wanted to be like my big brother and go when I was old enough. In the summer of 1980, I got my chance. I arrived for 4th session with my Mom and Dad and was greeted by Joe who was on staff at the time- I was immediately deemed "Garvin's Little Sister". I don't even think some counselors ever knew my name was Ann but I didn't care- I was a camper at Nature Camp and my big brother was on staff. I majored in Ornithology of course- wasthere any other major? Joe didn't cut me any slack but I was nowhere near as gifted as he was with birding or any of the sciences. I remember getting my notebook back at the end of the session and seeing all the corrections Joe had made. That first summer I had friends who were homesick and sad and I remember being so lucky to have my brother there- I didn't miss home. Joe never treated me like I was annoying during those summer sessions at camp. It was our special bond.
Nature Camp was one part of my brother Joe, and I was the privileged one in the family to share in the same experiences. I could go on forever talking about my big brother. Joe used to get so uncomfortable when I would say how much someone liked him or when someone would ask about him. He was a humble man that was gentle and kind. Joe made this world a better place and his passing has left a huge void. The place in the circle has a hole where I search for signs of Joe- he has left this world but we must continue on following the gleam. We are all forever changed and I am forever "Garvin's Little Sister"
Katie Hoffman:
Once while we were both at William and Mary, Joe came by for a visit. We were just sitting around talking, and he happened to pick up my student directory and flip through it. I was a sophomore at the time, living as close to the center of campus as I could manage. Joe had ventured in to see me from the farthest-flung, least populated dorm he could find. Flipping through the pages of my directory, he asked me, "What are all these check marks by people's names?" "Oh, those are all the people I've met so far," I explained. Oh, the look on his face! Joe found my answer hilarious, unfathomable, and also admirable, and he said so. A less kind and mature person would just have made fun of me. Not Joe. He understood our differences as one of the best things about our friendship.
While everyone else around him was busy being young and stupid (sometimes really stupid), Joe was our anchor—wise, calm, steady, and measured. But he managed to be responsible without being boring or self-righteous, which was part of why we all loved him. His sense of humor was one of his best qualities. As Nell has always said, Joe had the best laugh ever. It's a gift to us that Ryan has his own version of it. We'll still hear a beautiful echo at Camp every time Ryan laughs. Or when he sings–because Ryan has his own version of Joe's beautiful voice, too. Music was always at the center of my friendship with Joe. One of the greatest pleasures of singing with him was how it sounded. But even greater was how he taught me to choose my material. I learned to pay attention to what a song meant. I learned to hear where a song needed to go and to find just the right harmony. What a teacher!
Joe had such a beautiful singing voice because Joe had such a beautiful heart. He knew how to listen—not just to music, but to people. He taught the rest of us a thing or two about that. He heard the best in us, because he believed that it was there. And when he heard it, he stayed tuned in, even when we couldn't do that for ourselves.
If I had thirty seconds to speak to Joe right now, I'd tell him this: "I wasn't ready for this goodbye. None of us were. Once we became 'grown-ups,' you and I didn't talk or see each other much, but it was always a comfort to know that I had such a friend in the world. I really miss you. But I'm so glad to have had you around. I keep discovering all that you left us—lessons that you taught us without our even noticing until you were gone. And I'm damn jealous of the angels who get to sing with you now. Learn some good new stuff, and keep the guitar tuned up for when I get there. And find me a printed directory, so I can start checking people off right away."