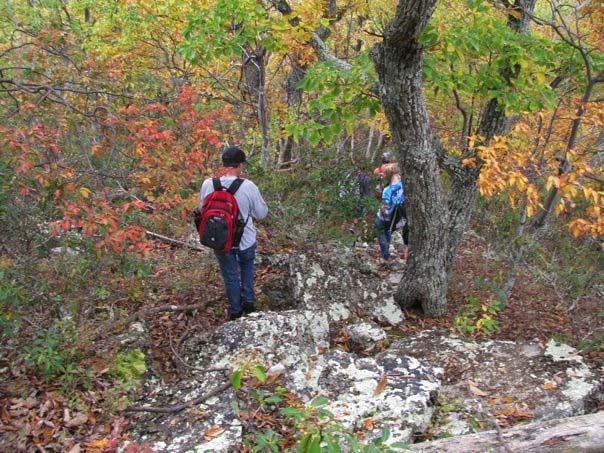 By Philip Coulling, NC Executive Director
Paul Cabe and Leigh Ann Beavers served as directors of Nature Camp from 2000 through 2003. On the middle Sunday of each session, they would release the cooks to go hiking with the rest of the staff and campers and would stay in camp to prepare a hearty dinner of roast turkey, mashed potatoes, and all the usual trimmings. Although Nature Camp had long served a big meal after the return of Sunday hikes, the menu would
often vary from summer to summer, but the tradition that Leigh Ann and Paul established continues to this day—the Thanksgiving feast, that is; current director Flip Coulling has never felt up to putting together such a meal by himself.
When Nature Camp faced the daunting task of having to raise nearly half a million dollars to pay for much-needed upgrades to the electric and water infrastructure in 2007-2008, Paul and Leigh Ann proposed an idea for a fundraiser at Camp: a day of hiking in the fall followed by an early Thanksgiving dinner which they offered to prepare. It is unclear whether they originally envisioned only a one-time event, but wittingly or not,
they created a new tradition: Fall Hike Day has become a staple on the annual Nature Camp calendar, and for 12 of the past 14 years, Leigh Ann and Paul have graciously and generously provided all of the food and spent an entire Saturday in October lovingly preparing a scrumptious meal (usually with the assistance of several other pairs of capable hands) for all the hikers. This event has drawn hundreds of participants and raised thousands
of dollars for the Nature Camp Foundation; just as important, Fall Hike Day has strengthened and expanded the bonds of the Nature Camp community. In recognition of their contributions, the Nature Camp Board of Directors is pleased and grateful to induct Paul and Leigh Ann into the Roll of Honor for the class of 2020.
Congratulations and thank you, Leigh Ann and Paul!