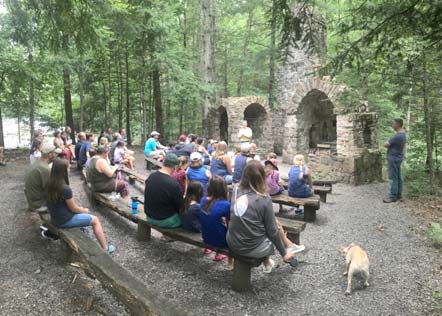 This year marks our 5th (yes, already!) annual "sneak-peek" experience for prospective Nature Campers, scheduled as always for the afternoon of the middle Saturday of 3rd Session, July 20th. Please mark your calendars and keep the event top-of-mind for referral to relevant friends and contacts who would benefit from joining us.
In five short years this event has become a successful and reliable mainstay for not only first-time campers enrolled for 4th session and their parents, but also for friends and siblings. The exposure to camp's setting, the opportunity to see the facilities, to meet Flip, the campers, counselors and staff; and to ask questions and get excited about arriving the following Sunday seems to work a magic spell on most enrolled 4th session attendees.
In addition, we are happy to increasingly be welcoming camp alumni with young offspring, who seem keen to stay connected and accustom their younger children to Camp and its environs.
As for helping us to spread the word about Prospective Camper Day, we have been focusing our intentions and efforts toward achieving full enrollment in both 3rd and 4th sessions, and in particular to middle school educators – teachers, librarians, etc.
As always, look for postings about 2019 Prospective Camper Day on Camp's website and Facebook page. Fliers will also be available at Service Weekend, Adult Session, and Camp 1st and 2nd sessions, but please reach out if you would like a supply to share!