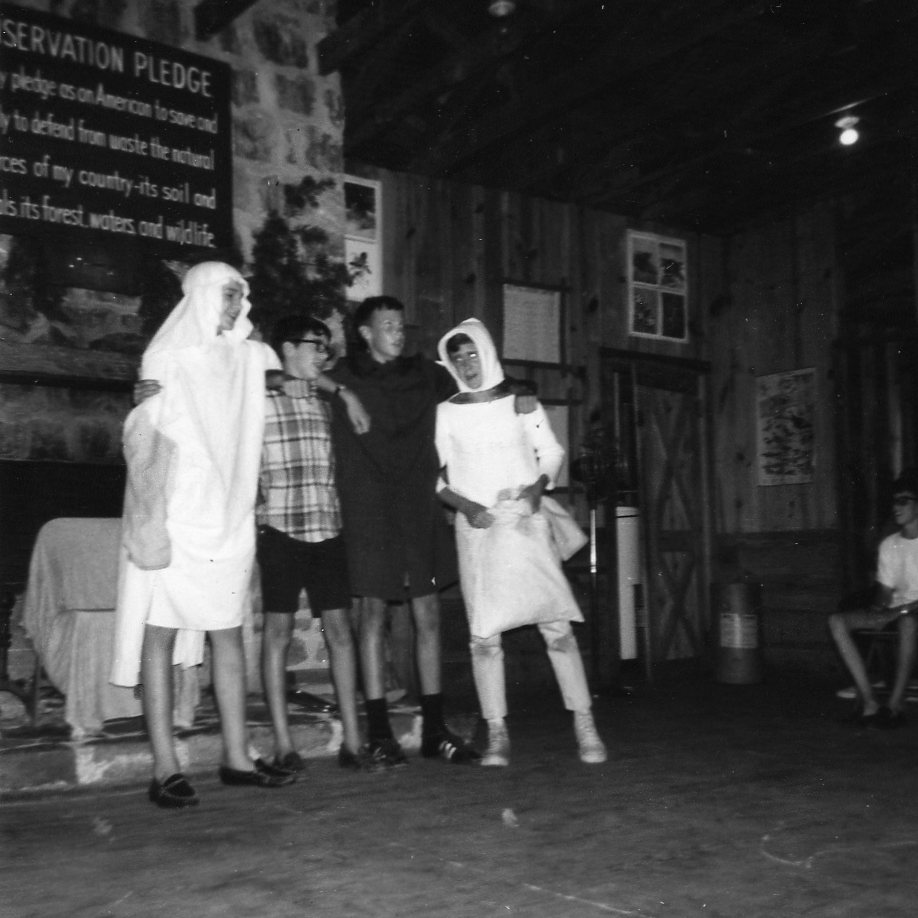 An excerpt from this summer's Third Session Woodland Echos, written by Philip Coulling, Director, Nature Camp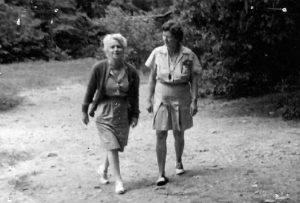 This year marks Nature Camp's diamond jubilee, and the first Thursday of Third Session was the 75th anniversary of the very first day of the very first session of Nature Camp. Twenty-four campers, 14 girls and 10 boys, gathered on Monday, 20 July 1942 on the shores of Sherando Lake, near Lyndhurst in Augusta County, for a two-week period of study, recreation, and fellowship intended "to develop in the minds of the young people an interest in and appreciation of wildlife, plants, and natural resources." First proposed, it would appear, by Helen Worth Gordon (on the left in the picture), Conservation Specialist with the United States Forest Service; endorsed and supported by Carrie Curry, President of the Virginia Federation of Garden Clubs, and her successor, Linda Crosby; and shepherded forward by Lillian Schilling (on the right in the picture), Nature Camp could hardly have begun at a less auspicious time in the history of our nation, which had not yet fully recovered from the Great Depression of the 1930s and during the first summer in which the U.S. was engaged in World War II and fighting on fronts in Europe and the Pacific. A promotional flyer evidently circulated to publicize this new camp in the spring of 1942 did not seek to sugarcoat the serious mood of the country or the dire circumstances it faced, but emphasized the particular importance of an enriching camp experience for American youth at that juncture in history:
"This coming summer, when we are going to need camps for our young people as we have never needed them before, isn't it grand news to hear that the Virginia Federation of Garden Clubs is sponsoring a Nature Study Camp for boys and girls. Angelo Patri, in one of his recent newspaper articles on camps, said, "They used to be considered luxuries; now they should be considered necessities." What a grand opportunity this is to get our young people out of the cities, away from the talk of war and destruction, and into the quiet and peace of the hills, where they can learn in the best way possible to conserve and protect our natural resources, such as soil, forests and wildlife, which conservation and protection are as necessary to the future of America and the winning of the war."
That Nature Camp should have had available access to the existing recreational facilities at Sherando Lake, which offered an open-air dining shelter, cabins, and bathhouses, as well as the lake itself, was no doubt instrumental to the early success of Nature Camp. The wheels that launched Nature Camp had been set in motion barely 18 months earlier by a still-fledgling organization that had itself been in existence for less than a decade, and the Virginia Federation of Garden Clubs (VFGC) lacked the financial resources both to establish a camping enterprise and to construct new buildings in such short order. In many ways Sherando Lake proved to be not only a fortuitous but also a highly favorable location: the lake provided a setting for daily swimming, a large open field and established trails afforded additional recreational opportunities, and proximity to extensive, forested lands of the George Washington National Forest presented nearly unlimited potential as a boundless outdoor classroom. One of the campers that first session, Ruby Cook, wrote in her essay entitled "What the Virginia Nature Camp Has Meant to Me" (for which she received five dollars in defense stamps), "My first glance at camp left the impression I will always have—that at last I had found the ideal camp!" During the final campfire program of that first session in 1942, a roundtable discussion took place in which campers shared what their experience had meant to them and were given the opportunity to share suggestions for improvement. One camper remarked, "Don't make many changes. It is perfect now and if you change it you may ruin it."
Yet even as we celebrate Nature Camp's beginning and remember its origin in the North Fork Back Creek valley in the Potomac-Shenandoah watershed, I have been thinking lately how fortunate it is that Camp is now located—and has been for 65 years—somewhere else. For although Sherando Lake offered several advantages, it also presented many challenges and drawbacks. Because of other uses and users of the site, the VFGC was limited to at most two sessions during the decade that Nature Camp was held there, and even when camp was in session, visitors still had access to the lake. Moreover, increasing fees for maintenance, garbage disposal, and vending services led the organization to explore alternative locations. In 1952 Mrs. Schilling and the VFGC entered into a new agreement with the Forest Service to relocate Camp to a then undeveloped site on the lower reaches of Big Mary's Creek in the upper James River watershed.
In 1844, Henry David Thoreau wrote of Williams College, my alma mater located in the Berkshires of northwestern Massachusetts, "It would be no small advantage if every college were thus located at the base of a mountain." The same could be said just as appropriately about a summer camp. As a youth, your director did not attend any other camps, except for week-long (and generally unsatisfying) band and engineering camps, both held on college campuses and neither of which seems to merit consideration as a true summer camp. In more recent years, I have visited a number of other camps, but none conveys the feeling that this place does—a sense of intimacy and closeness without claustrophobia or overcrowdedness, of protection and nurturing and comfort in a world still troubled by war and threatened by significant global environmental problems. Indeed, a word that springs to mind to describe Nature Camp and its long-standing association to this particular place is propinquity, which connotes not only physical nearness maintained by close proximity, but also kinship stemming from shared beliefs, interests, and experiences.
A 1970 newspaper article, written by Jerry Simpson for Charlottesville's The Daily Progress, opened with the line, "Beside a creek that tumbles down between two mountains, fingertips are taught to see." I have long loved this description of Nature Camp, for it underscores not only the great fortune we enjoy to be in this place (and to have this place essentially to ourselves), but also the simple pedagogical approach we embrace here—that of hands-on, experiential, place-based, outdoor-oriented teaching and learning. Later in that same article, Peter Mehring, then the assistant director, elaborated on the educational philosophy and experience of Nature Camp: "It's not really a teacher-pupil relationship, but two friends talking. It's not teaching; it's sharing. Everyone has five senses, but most of us use only one or two. Here we try to get everyone to see and hear and smell and taste and touch."
Much has changed over the years at Nature Camp—the bunkhouses and T-houses now have electricity; the dark green, opaque hue of the stream-fed swimming pool has been replaced by a clear, chlorinated blue; a clump of Kentucky Coffeetrees shades the area in front of the Girl's Bunkhouse and Staff House; a deep well rather than Buttermilk Spring supplies drinking water; and the Gus Deeds Memorial Pavilion invites campers and counselors into community where the brick incinerator formerly stood—but much remains the same. Alumni continue to remark on the familiarity of this place upon returning to Camp after an absence of a few to several years, and the buildings look fundamentally the same as when they were first built. And while the staffing model has changed over time, as mostly college-aged counselors have replaced the often itinerant professors, forest rangers, wildlife biologists, and adult amateur experts as the class instructors, the basic methodology remains the same: teaching about the natural world around us through direct, personal experience.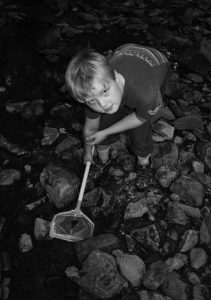 Earlier this summer, a First Session camper asked me what I would like to see in Nature Camp's future. I hemmed and hawed an answer that was probably unsatisfactory for both him and me, for I too often embrace a mindset and viewpoint that thinks and considers matters only one year at a time, or even just session to session. I have long believed, however, that the greatest enemy of Nature Camp is complacency—that we are destined to fail, as an educational institution and as an enterprise that seeks to promote wise and responsible stewardship of our shared environment, if we simply rest on our laurels, comfortably content with our successes and naively presuming that what we have done has worked, still does work, and will continue to work in the future. I don't mean to suggest that we should constantly change our program or class offerings or that we should introduce lots of technological bells and whistles to bring Nature Camp fully into the 21st century. (Indeed I firmly believe that it is important that we teach and show you campers that you don't need a bunch of fancy equipment or expensive gear to study, enjoy, appreciate, and learn about nature.) But I do think that we always need to make sure that we stay relevant, for Camp can continue only as long as campers want to come here, parents feel comfortable and content sending them, and young adults aspire to work here as counselors. So it may lack the clarity or appeal of a concrete idea, but my wish for the future is that Camp remain relevant—and fulfilling and enjoyable and inspiring—so that it may continue to transform lives for the next 75 years and beyond.