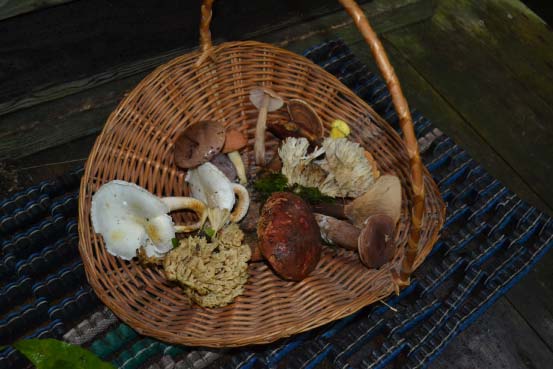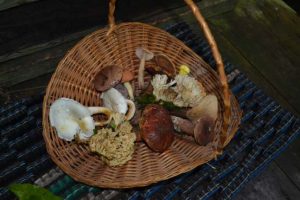 This past summer Nature Camp welcomed to the Big Mary's Creek valley 342 campers representing 21 states, the District of Columbia, and the Russian Federation.
     We offered Meteorology for the first time in more than a dozen years and introduced Lichenology to the curriculum.  Campers in the latter class enjoyed using Lugol's iodine solution and other chemical tests to identify species, though we could never manage to get our hands on some p-Phenylenediamine.  The Mycology class took advantage of relatively wet conditions for much of the summer (three inches of rain fell in a single day twice), and the Great Mushroom Tournament of 2016 stimulated further interest in collecting and identifying specimens during Third Session.  Paul Cabe, former Executive Director and current Professor of Biology at Washington and Lee University, spent an afternoon with the Limnology and Entomology classes and taught campers and staff how to identify and distinguish the native species of crayfish in Big Mary's Creek and South River.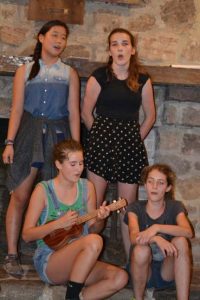 A group of First Session campers penned a new Camp song ("Yours and Mine") with lyrics in four different languages.  A recording is available on the Facebook page.
     The cooks (Adam and Lindsey Rotche, Ben Camber, and Danny Sternfeld) made full use of the new charcoal grill purchased with a grant from the Nature Camp Foundation and just about perfected their recipe for pulled pork barbecue.  And every bunk in Nature Camp is now equipped with a brand-spanking-new mattress.  But don't worry, those of you nostalgic for the bygone days of straw tick and lanterns hanging from the rafters: Camp remains a largely unplugged environment, and we still fall asleep to the sounds of tree frogs and katydids (and awaken to the incessant call of whippoorwills).
     In a remarkable turn of events, the girl MC for the camper talent show was selected as the Best All-Around Camper in every session.
     As we prepare for Nature Camp's 75th anniversary in 2017 (stay tuned for details about how we will celebrate this milestone), I wish to thank and acknowledge the membership of the Nature Camp Foundation for your innumerable gifts spanning more than a quarter of a century.  We simply could not be where we are today—providing an educational, recreational, and social program of exceptional quality at a modest price and with a substantial financial aid program—without your loyal, generous, and steadfast support.
– Philip Coulling, Director, Nature Camp