Re-printed by permission from Anne Adams, author of this article which appeared in The Recorder.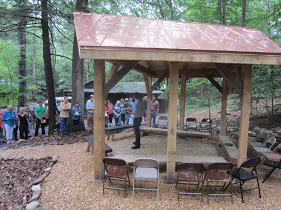 On what would have been his 26th birthday, May 6, construction began on the Gus Deeds Memorial Pavilion at Nature Camp in Vesuvius. Despite heavy downpours throughout the region, it turned out to be a lovely afternoon in Vesuvius Saturday, June 20. 2015 when the pavilion was officially dedicated in Gus' honor, as "camper, counselor, music man, friend, brother," as the program described him.
The Millboro native, son of Sen. Creigh Deeds and Pam Deeds, died tragically Nov. 19, 2013; he had attended Nature Camp for years while growing up, later becoming one of its beloved counselors. The camp organized a campaign following his death to raise money for the pavilion, and to fund scholarships for campers in need.
Folks gathered in front of the new structure Saturday, welcomed by camp director Philip "Flip" Coulling, while a camper and counselor played a folk song on the banjo, one of Gus' favorite instruments.
The pavilion was built by Lithic Construction of Ruckersville, led by project manager and chief designer Jarrod Hood. Much of the timber used came from a white oak felled near the camp swimming pool and a red oak donated by long-time former camper Walter Mehring.
Bath County resident Tony Walters, who grew up with Gus and attended William and Mary at the same time Gus was enrolled, was also on hand. He had worked at the Virginia Historical Society, but this past year went to California to work at the Pali Institute, a place that trains in delivering experiential learning. On break between semesters, Walters is back at Nature Camp this summer as co-assistant director.
Walters talked about what a great place the pavilion is because it has already become the kind of gathering place Gus would enjoy. There are memories of Gus everywhere at camp, he said, and now the pavilion is within sight of many of the camp buildings, reinforcing the great feelings of community that Gus embodied.
Everyone joined in singing the camp song, "Thinking of Tomorrow," written by previous campers, and the ceremony closed with a benediction led by the Rev. John Haney of Millboro.
"We are grateful that so many generous people helped us build this part of Gus's legacy — a beautiful teaching pavilion and two scholarships at this place Gus loved," said his father, Sen. Creigh Deeds. "Nature Camp was a big part of his life and we felt it appropriate to work to remember him there."