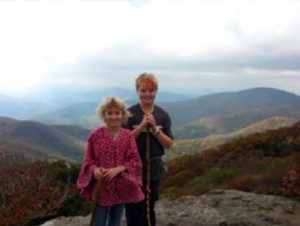 On Saturday October 18th, 2014, a chilly but beautiful fall day, over 85 folks gathered to enjoy a variety of hikes and fellowship. Hikes ranged from the "geriatric hike" to full scale running up Mine Mountain. Needless to say there was a perfect hike for everyone – of all ages and abilities. Here is what one hiker relates:
"I went on the Mt. Pleasant hike during the Fall Hike event at Nature Camp. It was a great hike filled with neat plants and mushrooms. We didn't see many animals, but heard lots of birds. There were two lookouts at the top. Both had spectacular views and great colors. We got to eat lunch at the top. When we came back down the mountain, the cooks had prepared a great dinner. They had a really good peach cobbler for desert. It was a great time!!"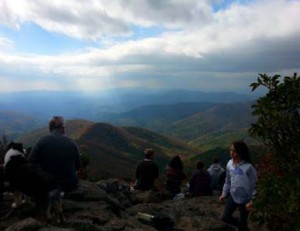 – Neil Fredericksen, 2014 4th session camper.
And he is right – when we all got back to camp, Paul Cabe and Leigh Ann Beavers had prepared a feast – a traditional turkey dinner with all the fixins and delicious vegetarian options. Paul and Leigh Ann donate the food and their time to the event and everyone gathered there truly enjoyed every mouthful as they shared stories of each other's hikes. This years event raised over $1200 with all proceeds going to support the NCF and through that, Camp. The next Fall Hike Day is scheduled for October 17th so mark your calendars and join us for a truly enjoyable event.