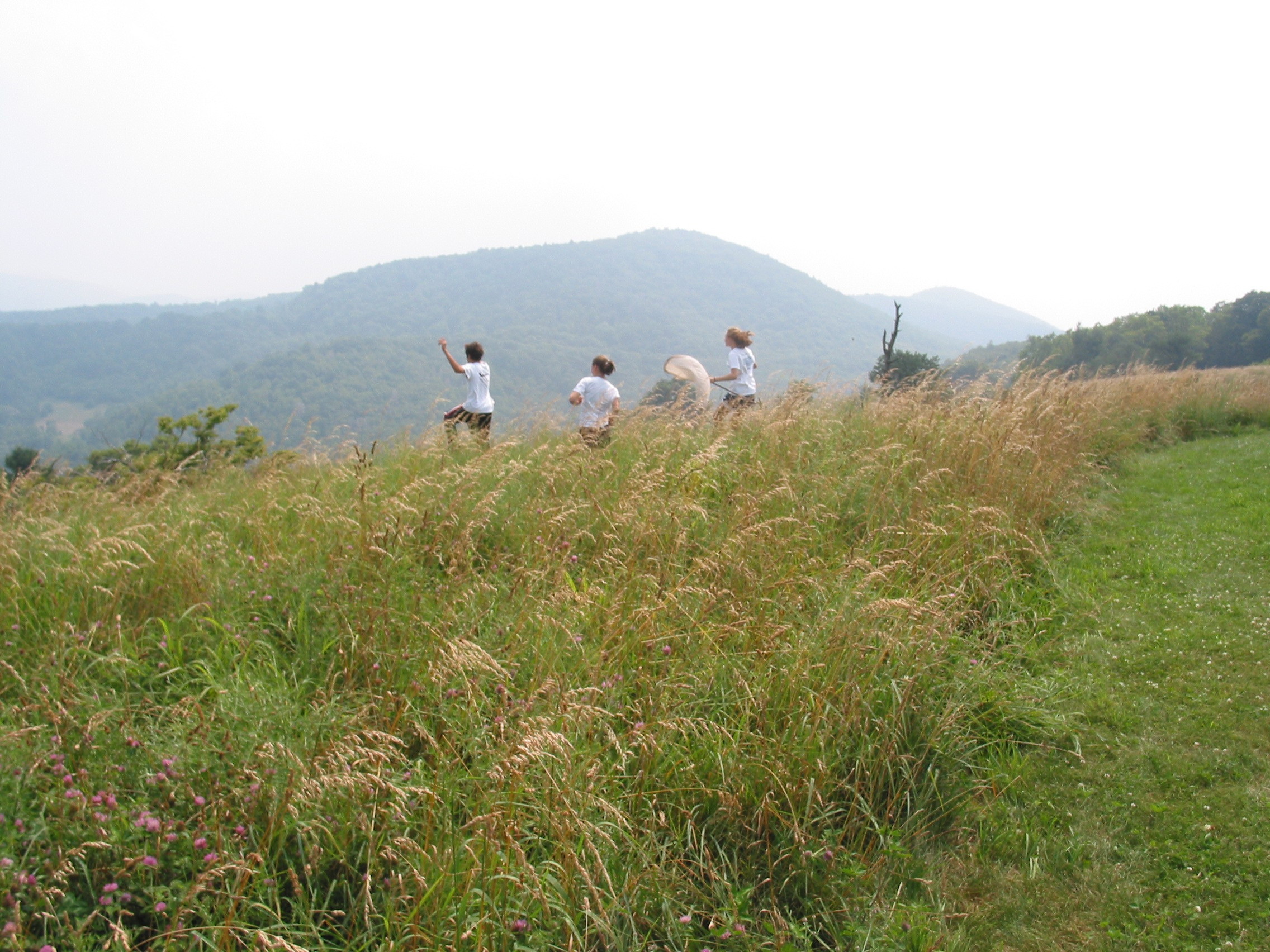 Even before this issue of the Afterglow went to press, all four sessions had filled for both girls and boys for this upcoming summer.  We will continue to accept applications throughout the spring, however, and cancellations will inevitably create some vacancies for prospective campers on the waiting list.
This year Nature Camp adds two more names to the Roll of Honor.  In recognition of their extraordinary, non-monetary contributions to Nature Camp, we are pleased to acknowledge Scot Marsh and Robert Ritchie.  As one of several VMI cadets to serve on staff during the tenure of Col. Reeves, Scot spent part of only one summer at Nature Camp 30 years ago, but he put in extra time that season working with a few other counselors on maintenance and repair projects.  More recently his generous donations of time and service have been truly invaluable.  In 2003 Marsh and Legge Land Surveyors conducted a pro bono, comprehensive survey of the Nature Camp grounds which provided a critically important base map for the infrastructure improvements completed five years later. This past year Scot was instrumental in securing a new pickup truck for Camp and facilitated the development and approval of the new well by mapping its location, completing the well lot plat, and filing the deed of dedication with the local circuit court.
Like Scot, Robert's direct participation in Nature Camp was limited to a single summer (1950), but he represents a cherished link to the Sherando Lake era.  After losing touch for nearly 50 years, he reconnected with Nature Camp in 1996 (I believe after seeing an "I'd Rather Be at Nature Camp" bumper sticker!).  He has been a fixture at Service Weekends ever since, working largely behind the scenes on a number of time-consuming projects, including constructing a new step behind the kitchen, refacing the cabinets and repairing specimen drawers in the museum, and most recently repairing the hole in the wall of the canteen following the removal of the old water tank.  Scot and Robert share another distinction: they both gave us Best All-Around Campers in the past few years.  Scot's son Ben was selected BAC in Third Session 2011, and Robert's grandson Larry was chosen BAC in First Session 2009.
Nature Camp is launching a much-needed and overdue initiative this spring.  A thorough study of the museum will consider how this space can best serve Nature Camp's pedagogical mission and philosophy in the 21st century and how we can and should care for the collection of natural history specimens which spans the better part of a century.  For more information about this project, please get in touch with director Flip Coulling at director@naturecamp.net.
Facebook users are reminded that they can "like" Nature Camp's page; just follow the link from the Nature Camp website (www.naturecamp.net).
It has been 60 years since Nature Camp reopened on the banks of Big Mary's Creek, and as our original facilities continue to age, we extend our gratitude and heartfelt thanks to all those who donate time, talent, and dollars to maintain the buildings and grounds and to ensure the continued success and exceptional quality of our program.
– Philip Coulling,  Executive Director