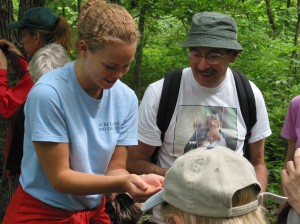 The biology of miniature amphibians. The ecology of small seeps, springs, and intermittent streams. Tiny nature journals. The diversity of soil microbes. The life history of ferns and their allies. Techniques for extracting and isolating DNA. Interactions with nature up close and personal.
These are but some of the offerings tentatively scheduled for this year's 24th annual Adult Session, a summer camp experience for grown-ups,  which will take place August 16-20, 2013. With the theme of "Nature in Miniature," we will challenge ourselves not only to examine nature at small scales, but also to consider local landscapes as representative of a larger whole. In addition, participants will have the opportunity to make necklaces from common gemstones after studying their crystalline structure, to learn how to make knots in rope, to build small solar panels, and to discuss effective engagement in political action.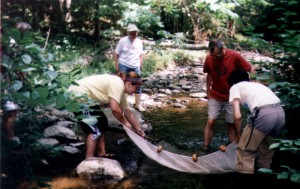 The session will also include the usual favorites—morning birdwalks, evening explorations for nocturnal critters, sharing of nature books, Sunday morning chapel service, refreshing slides at Table Rock—and the return of the tremendously popular Appalachian string band workshop.
More information and a registration form are available on the Nature Camp website (http://naturecamp.net/programs/adult-session-programs). We hope to see you in August!