From Afterglow Number 78 Oct 2010 – orginally published in the Fords Colony Garden Club of Williamsburg newsletter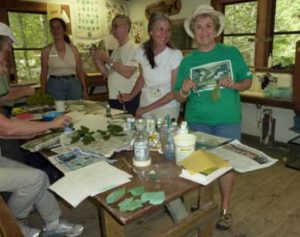 by Tina Taverna
(Information on this years adult session and how to register is here: http://naturecamp.net/programs/adult-session-programs/)
As a youngster, I never had the opportunity to attend camp. So at the age of 67, I thought – it's never too late!
Camping in the woods has always been one of my hidden wishes in life. Another one of my wishes was to someday join a garden club when I retired. Well, six years ago, my husband, Jim, and I moved to Ford's Colony where both of my dreams came true, made possible by my joining the Ford's Colony Garden Club.
The Ford's Colony Garden Club provides Nature Camp scholarships to students in our area. Nature Camp, located in the picturesque Blue Ridge Mountains, was started by the Virginia Federation of Garden Clubs in 1942 and is one of the oldest camps of its kind in the country. The scholarships are funded to the recipients through profits made by the Club's yearly Hidden Gardens Tour. As Chairman of the Scholarship Committee, I am happy to say that we were able to sponsor five students to Nature Camp this year, plus help provide the camp with a new washer/dryer. My contacts with Nature Camp revealed that the camp offers an Adult Session each summer! So it occurred to me that if I could convince Jim that this was a chance of a lifetime, camp might be in my future and I might be able to check one of my dreams off my "bucket list". I also thought itwould be fun to invite another couple to join us in the adventure and managed to convince our friends, Ellen and Paul Salvione, to come along. Well, my plan worked!
Needless to say, I was hoping that our four days in the mountains would prove to be enjoyable and memorable for all of us and they were! Each morning at eight o'clock, we arrived at the mess hall for breakfast, one of three meals served each day with a vegetarian alternative as part of every meal. Between meals and on into the evening, we took hikes and field trips, observed flora and fauna, and attended a variety of lectures taught by experts in the fields of biology, astronomy, botany, geology, forestry, agriculture and environmental science.
We even learned about herpetology, which was a new one to me! In case you are wondering, herpetology is the study of reptiles and amphibians and yes, we saw snakes.
Three "counselors" ran tutorials in playing Appalachian string band music, and both Jim and Paul performed in the string band concert on our third evening at camp. It was wonderful!
I kept a diary of my camping adventure, but before putting it away along with all my pictures, collected leaves and memories of a wonderful Nature Camp experience, I just thought I would share it with you all in the event you too have a desire to go to camp someday.
Remember, it is never too late to do something you may have always dreamed about but just didn't have time to do.