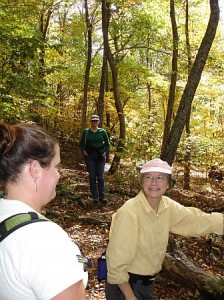 The October family hikes organized by Paul Cabe and Leigh Anne Beavers have been very popular and successful. Last year's hike had 60 people attending and raised over $800. We plan to have another hike this year. Further plans will be posted at the NCF web site.
See a slideshow of images of Fall Hike Day 2008 here! (provided by Amy Gonzalez. Thanks Amy!)
Nature Camp is a partner in the Central Blue Ridge Chapter of the Virginia Master Naturalist Program. The program will be running a basic training course at the end of May, and will be using camp grounds for part of the program. Nature Camp, Inc. is interested in making the grounds available to other groups during the spring and fall.
Camp ended the 2008 season with a positive balance for operations and will keep tuition at the same level for this year. Director Flip Coulling is continuing to improve the garden space, and would like to can tomatoes at fall service weekend to use the following summer if the tomatoes can be protected from the deer. He is continuing to look for local food sources; all beef and some cheese used at camp are now local. He is looking for eggs, honey, maple syrup, and fresh produce. Local sourcing is a challenge because camp is a large consumer.
FROM AFTERGLOW 75 APRIL 2009