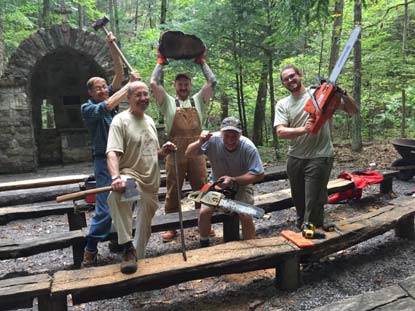 by Theta Miller
Fall Service Weekend 2019 saw 97 volunteers gather and work together on our beloved Nature Camp.
We keep hitting new records for participation!
Much of the work of Service Weekends recurs each time we gather, and I can never make it sound glamourous. We always tend trees and eradicate invasive plants such as autumn olive. We clear brush and paint foundation block, clear paths and reset edging, clean bunk houses and tee houses and repair screens and shutters and drainage ditches. We create benches and shelving and community. We ready Camp for the summer season and put it to bed afterwards. Individuals who regularly attend the Service Weekends seem to find some niche they enjoy, and they just take up their familiar
tasks. It's pretty well a given that Mike will be cutting autumn olive, Nell will be in the kitchen, and Andrew will be up a tree somewhere. Walter will be supervising the hewing of oak logs for benches, Jerry and Caroline will be methodically building or repairing something, and Amy G. will get pictures of us all in action! Now that I have started naming names, it's hard to stop! There are many committed regulars with special talents and interests and many more that come just willing to do anything requested.
In addition to the routine and eternal tasks of Camp maintenance, there is often a special project and this time it was the GREAT EDUCATION
BUILDING EMPTYING AND DEMOLITION! Construction on the Education Buildings is probably almost complete as you read this. It was necessary
that everything in the buildings be removed before construction commensed. Team leads for each of all three areas (Ryan Garvin handling the lab, Jerry Trammell the museum, and Claire Lant the library), made plans ahead of time to document, label, and pack up all materials for storage during the fall to spring construction season. Over the weekend, they guided and facilitated their teams' packing and transporting items to safe storage in the shipping container that was rented for the season and to other roomier locations throughout Camp.
When the building was completely emptied, folks got down to the business of dismantling shelving, taking down light fixtures, removing dropped ceilings and even the wallboard and walls. Salvaged lumber was de-nailed and stacked for reuse. It was quite an experience at the end of the weekend to stand in the museum and look through the wall to the fireplace in the library.
All of the work of the weekend, from cleaning the toilets to demo of the Ed Building, saves money that would have to be spent if there was not the committed volunteer labor of those who love Camp. Lest this sound like we only work, I assure you that as always, the food was delicious, and the evenings filled with music and camaraderie.
Thank you to Adam G., Adam R., Amy B, Amy C, Amy G, Andrew, Andy, Art, Audrey, Banjo Mike, Barak, Bennie, Bob B, Bob E, Bob R, Brett, Bridgette, Brooke, Caleb, Carolyn , Claire L., Claire S., Clarissa, Corey, Dave, Doug, Eleanor, Emma, Eric, Ethan, Evan, Flip, Fox, George F., George S., Gisela, Grey, Jake, Jerry, Jes, Joel, Kajsa, Karen, Kate, Katherine, Katie, Kaye, Kellogg, Kendra, Kim, Kyle, Leah, Leia, Liam, Lock, Louise, Lucy,
Luke, Lynne, Mack, Maggie, Manuel, Maria, Marieke, Martha , Mary Kathleen, Matthew, Mike, Mitch, Naomi, Nell, Noah, Paul C., Paul G., Pebbles, Penny, Rachel, Randy, Rob, Ryan, Sara, Sarah H., Sarah O., Sheryl, Shirley, Stephanie, Sylvia, Theta, Tolly, Troy, Ventry, Violet, Walter, and Will!
Come join us next time. Everyone is welcome at Service Weekends regardless of prior experience as a camper or staffer and all skill levels can be put to use. We welcome families and the rec field and surrounding National Forest provide an excellent opportunity for those who wish to camp. Single sex bunk houses are available for those wishing the ease of just throwing a sleeping bag on a bunk. Spring Service Weekends are always the third full weekend in May (except this spring) and Fall Service Weekends are the third full weekend in September. Mark your calendars and join the fun.
** Editor's Note: Due to the effects of the Corona virus and how it is disrupting all our lives, the the 2020 Spring Service Weekend will not be held at the regular time in May. We are hoping the situation will allow us to reschedule so that we may continue to provide the material, physical, and task-oriented support that Camp will surely need as we move into a rather unusual summer. As soon as we are able to communicate plans to you, we will. Please look for updates via our website, Facebook page, and email.