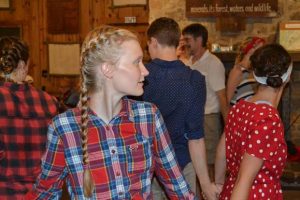 Reprinted from The Daily News-Record, Harrisonburg, VA.
Emma Nicholas, born Jan. 16, 1999, made a deliberate and thoughtful decision to end her life on Wednesday, October 24, 2018.
After struggling with depression for many years, Emma felt that this was the only way that she could find the calm that her body, mind, and soul needed.  Emma unapologetically lived her life, fully embodying the phrase "marching to the beat of her own drum." She had a unique perspective of the world that came through in her sense of humor, writing, and conversations with practically anybody. She stood firm in her well-researched opinions and life philosophies and was more than happy to tell you how you were wrong.  One of the causes she most strongly advocated for was environmental conservation and sustainability and this passion will continue on as she has elected to use her cremated remains as part of an artificial coral reef.  She will also live on in others through tissue donation.
Emma was proud of her bisexuality and loved being part of and supporting the LGBTQ+ community.  Bringing beauty and meaning into the lives of others made her happy.  Emma was passionate about creating artwork that utilized elements of the natural world with digital, paper, and three dimensional media. She loved filming and editing pictures and videos of cities, nature, and her cats, Furbie and Cornelius. She spent her time enjoying and discovering new music that featured prominently in her many playlists and through her radio show at Franklin & Marshall College, The–Em–Dash.
Emma is survived by her pops, David Nicholas, her mom, Kajsa Svarfvar, and her brother, Jonathan Nicholas ("brother"), along with her large and loving extended family in both the United States and Sweden.
A celebration of Emma's life was held at Nature Camp on Saturday, Nov. 3rd, at 3 p.m.
Editors note: Emma was a camper from 2010 to 2016 and was selected Best All-Around Camper during her last session. She was an incredibly bright light with a keen intellect, a spirited passion for learning and the environment, a fierce drive to succeed, and deep empathy for others. A few years ago Emma took it upon herself to refurbish the old bird identification boxes in the museum and spent countless hours painstakingly rewiring them and adding digital recordings of the song and call of each species. She will be greatly missed.