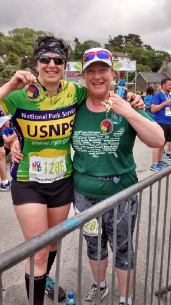 It's easy for Kirsten Talken-Spaulding to draw a connection between her summers at Nature Camp and her career with the National Park Service. Reflecting on a couple of her notebooks from her 1984 and 1985 sessions at Camp, she says, "Wow, I was such a nature nerd." That passion for the outdoors wasn't all she took away from camp, though. "Not only did the academic studies help lay the foundation for future learning, but the connection of being part of a team such as we had for various activities at camp helped me grow as a person in a social setting," she says. This directly prepared her for her future career. "The lessons from camp, along with the confidence one gained with the vigorous work, helped me get my first positions in land management, initially with the Virginia State Parks and then as a ranger with the National Park Service," she adds. She is now superintendent of Fredericksburg and Spotsylvania National Military Park.
Kirsten attended Camp as a teenager in the late '70s and early '80s. By her last summer of Camp, she was already employed with the Virginia State Park system. "I got the time off from work to go to Camp," she remembers. "In many ways, it was a kind of graduation for me."
Kirsten boasts an impressive—and, for many Camp-affiliated people, enviable—resume. After working with the Virginia State Parks, she began her career with the National Park System in 1988 at Virginia's own Shenandoah National Park. She later held positions across the United States before returning to Virginia: at Mojave National Preserve in
California, at NPS Headquarters and the National Mall and Memorial Parks in Washington, D. C., at Haleakala National Park in Hawaii, and at different parks in the National Capital Region including Prince William Forest Park and National Capital Parks-East. From 2010-2011, she served as a staff member of the Senate Energy and Natural Resources Committee and as special assistant to the NPS director as a Bevinetto Congressional Fellow. This 2-year fellowship is a very competitive, rigorous training and development program for NPS employees. She has also worked with the NPS Legislative and Congressional Affairs office.
Kirsten's current position is her second as a superintendent for a National Park. Previously, she was the first superintendent of the newly designated Fort Monroe National Monument in Hampton, Va., where she was tasked with setting the groundwork for a new National Park. "As the superintendent, you are not only well-versed in the mission of the National Park System, but of the park you serve directly," she says. "Through the work of the park staff you maintain and improve the resource protection of the unit you work in while balancing that conservation with use by visitors. Ultimately, by learning about the stories and resources of a park, we help to protect it," she adds, "not unlike the learning we got at Nature Camp."
Thinking back on her days at Camp, she remembers an interactive Limnology class that foreshadowed the kind of resource management and study she'd later direct. During the class she and her peers "aligned rocks in the stream to encourage the development of small pools that would bring in fish. We turned over
each rock looking for nymphs and other signs of a healthy aquatic environment," she describes. She also remembers other defining classes, such as Astronomy, Botany, Conservation, Ecology, Entomology, Geology, and Herpetology. "Heck, I loved them all!" she says.
She has many favorite memories of Camp outside of the classroom also. "Between the academic endeavors and the physical play in the mountains, the days always seemed longer than you could imagine," she says. "Nights were spent singing songs, and mornings with Reveille. As a trumpet player I recall getting to sound Taps a night or two. There was that smell in the library, where old taxidermied animals and old books lined the shelves," she describes. "I spent a lot of time deep in study in that space when I wasn't out in the woods doing hands-on learning."
Kirsten was at Camp along with many folks who have proved to be some of Camp's most dedicated alumni, including Nell Fredericksen (née Jefferson), Philip Coulling, Todd Fredericksen, John Diller, Katie Hoffman, and Chuck Story. She believes that her mother learned about Nature Camp through her active involvement with the Virginia Federation of Garden Clubs. "She knew of my love of the outdoors, despite not understanding it herself, and thought the camp programs would be just up my alley," Kirsten says. "I vaguely remember going to that first session and being super nervous," she adds. "Like most kids I didn't think I fit in anywhere and while Nature Camp didn't necessarily take that feeling away, I did find a place I could challenge myself and learn more about the natural world around me."
Kirsten received a Bachelor of Science degree from the College of William & Mary, and a Master of Divinity degree from Lutheran Theological Southern Seminary. She is also a member of the Fredericksburg Area Running Club, and enjoys long distance endurance motorcycling.
One especially memorable experience was a two-week rally in 2015, during which she visited 68 National Parks in 26 states, traveling over 11,800 miles.  Kirsten shares her life with her wife, Jennifer (an anthropologist with the National Park Service) and their two pups Bela and Riley.  They are both avid runners (Kirsten and Jennifer, even though the pups do like a short jog on occasion).
As someone especially knowledgeable in public lands use, Kirsten emphasizes the uniqueness of Nature Camp as a place. "It wasn't until years later, as I traveled to various public lands for work, that I realized just how special Nature Camp is as a physical space within a National Forest." She summarizes the magic and importance of Camp, "From its humble beginnings in 1941 to the sessions just completed this past summer, generations of students have held hands in the chapel and sung songs and learned that by knowing more about the world around them they can make a difference."
"Nature Camp is a window into the natural world where you can explore the complex workings of the environment while learning Camp songs, drink bug juice, and generally goof around," she adds, and we couldn't agree more.