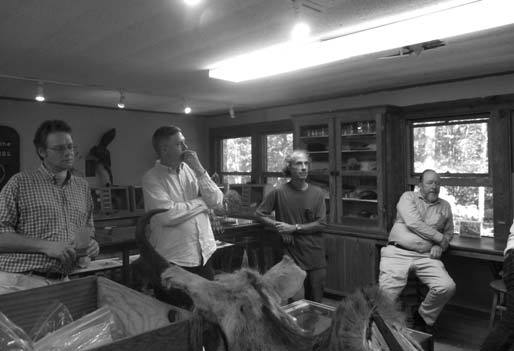 If there's one thing that characterizes our Nature Camp community, it's teamwork. I remain grateful for the opportunity to work with such dedicated and interested people on this project. We've been quiet, but we haven't been idle. Over the winter, Flip, Ryan Hester, and I went over the final report from Glavé and Holmes and also the cost estimate that G&H provided through an independent contractor, Hanscomb. We also had valuable input from Latham Schweitzer Coates. The estimate was higher than expected, partly due to Hanscomb's assumptions that we had a normal building with HVAC and standard plumbing. We reviewed the estimate for opportunities to keep costs low and maximize volunteer participation in the process, and in January I presented our findings and suggestions at the Nature Camp Foundation board meeting.
Flip and I joined Amy Gonzalez (working in her capacity as both a task force member and NCF Development Chair) in a meeting with Gibson Worsham of G&H on March 18, where we went over some of our questions about the estimate. During that meeting, we decided that rather than hiring G&H to oversee Phase II of the construction process, we would hire them to make detailed drawings of some of the more complicated elements of the renovation (such as the monitors that will go on top of the roof to allow more natural light into the spaces). We will seek a contractor who will work with us to put this project together Nature-Camp-style, with room for volunteer labor (which might include, for example, preparation of the space before renovations begin, construction of new bookshelves for the library, installation of new lights and ceiling fans, and painting and other finish work).
In addition, we may seek opportunities for corporate or industry donations (such as lighting and plumbing fixtures) and would welcome any suggestions to pursue for in-kind contributions. These efforts will keep costs down and allow for maximum community engagement. G&H is in the process of writing a letter of agreement regarding their drawings, and we are now considering contractors for the overall project. NCF has come up with a budget to support this, and we hope to begin the actual work sometime in 2019, after NCF commences a multi-phase capital campaign and determines if a construction loan would be prudent to expedite the project. Please stay tuned—and be thinking about how you might like to be part of the project.