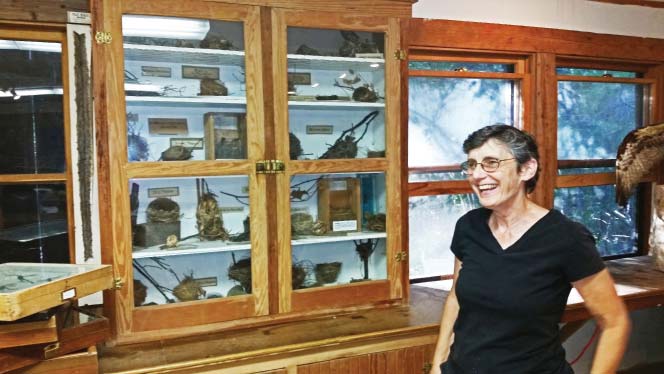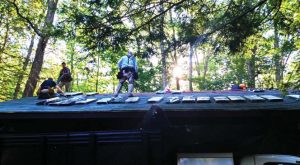 Fall Service Weekend of 2015 saw a remarkable attendance of over 80 individuals who came to camp to donate their time and effort, eat some fantastic meals, and enjoy fellowship with the camp family. Service weekend is open to anyone, not just those who attended camp as campers or counselors, and no skills are needed to be a valuable addition to the community. The only requirement for attendance is a desire to improve camp for all those who come to learn about the conservation and preservation of the natural world.
   With only the canteen and caretaker's roof to go, nearly every building at camp has been re-shingled in recent years. Most recently the garage roof was completed. Thank you to those who tirelessly devote their efforts each service weekend to replacing the old felt and shingles; our buildings are protected from the weather for years to come.
   While some spend their time on the roof, others crawl under the buildings to reinforce the floors with new pressure -treated lumber. These new joists are "sistered" to the existing supports in order to provide reinforcement for aging wood. Many people have contributed countless hours to this difficult project, but Mack and Dave deserve special recognition for their willingness to spend the majority of their weekends under the buildings showing others how to complete this task.
   After replacing a remarkable amount of siding in the spring it was time to start applying a fresh coat of carbolineum to the buildings around camp in order to protect the new and old wood from decay. It seemed that nearly every person who attended the fall service weekend spent at least some time contributing to the refinishing of the staff house, the boy's T-house, the infirmary, and the outhouse (which is a laundry building). Drying time presents a bit of an issue with application of large amounts of carbolineum just before camp season, so we will likely continue this project in the fall rather than this spring.
   A major museum renovation began last fall and will continue in order to update the contents and improve the space overall in order to provide a more useful and desirable learning space for campers and other visitors. Other projects completed include a new outlet in the center of the kitchen and one in the canteen for a generator, reinforcement of the shower heads in the boys t-house, bunk spring repair, porch repairs on the girls bunkhouse and the LS, library maintenance, and so much more. Thank you to everyone who contributed this past service weekend. Your efforts save camp thousands of dollars and create a safe, beautiful environment for all those who visit.
   As has become tradition, the kitchen staff, headed up by Nell Fredericksen, kept the crew well fed and happy. Some weekend favorites were the "Taste of Bolivia" with a beef stew called Saice over roasted potatoes (Nell lived in Bolivia for 6 years and decided to share some of the traditional dishes with us). We also enjoyed a hearty lentil soup for lunch on Saturday with assorted salads and sandwiches, and the ever popular gourmet pizza night.
   Thank you to Katie, Matthew, Sarah, Amy, Leigh, Carly, Samantha, Lucky, Donovan, Penny, Paul, Lock, Han, Peter, Ben, Mack, Gisela, Amy, Rick, Emily, Jill, Steve, Todd, Nell, Lily, Neil, Sue, Ryan, Margaret, Amy, Sandra, Katie, Callie, Joanne, Powell, Joe, Thomas, Celie, Steven, Sarah, Tristan, Caleb, Rob, Kim, Stacy, Max, Mary Frances, Simon, Theta, Shirley, Eric, Stephanie, Joel, Evan, Leah, Dave, Sarah, Hanly, Langston, Robert, Dustin, Olivier, Adam, Sarah, Paul, Ventry, Flip, Sheryl, George, Suzanne, Mike, Martha, Brett, Kate, Jerry, Charlie, Annie, Carolyn, Edward, and Cameron.
   Please watch your inbox for updates regarding attendance of the upcoming Spring Service Weekend (May 20th-22nd) including projects, supplies needed, safety equipment and training, and accommodations available. Contact Corey Basham at swvahawker@gmail.com at any time with questions or concerns regarding service weekends.
– Corey Basham, Service Weekend Chair