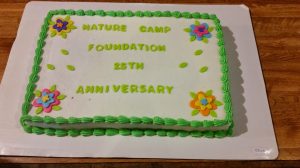 Reunions are a chance for the Nature Camp family to gather to share stories, relive old memories, and reignite friendships. Join NCF family members — past and present, campers, counselors, and friends of camp to hike, play games, swim, sing, share photos, sleep in the bunkhouses (or tents), and have a great time getting reacquainted with the place and people we love.
The next Nature Camp reunion is set for May 29-31, 2015!
It will start at 5:30 pm on the 29th and wrap up at 2:00 on the 31st.
Below, you'll find the registration form for the reunion. Camp can only accommodate a limited number of attendees, so please fill out the form as soon as possible and mail it to:
Graelyn Brashear
304 13th St. NE
Charlottesville, VA 22902
All registration forms must be received by April 30, 2015. There will be reminders by email and on social media (be sure to "like" the Nature Camp Foundation Facebook page: https://www.facebook.com/pages/Nature-Camp-Foundation/107552817467 – and then under the like button, choose "get notifications"!) in the months to come!
We ask that, unless you're sure you're coming, you do not prepay for the weekend, because refunds can be hard to handle. Instead, please plan to pay at the reunion in May. If you're certain that you're going to attend, you may send a check along with the registration form payable to the Nature Camp Foundation.
Please take care to fill out the whole form! We'll need lots of volunteers for various duties during the weekend, as well as people to lead hikes and nature outings. And please indicate the gender of each attendee, so we can determine how the bunkhouses will fill up.
Questions? E-mail Graelyn Brashear at ghbrashear@gmail.com.
2015 Reunion Registration Form (PDF)