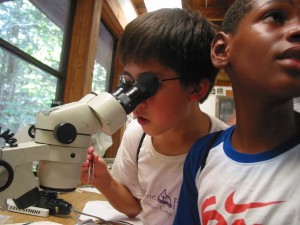 Nature Camp's 70th summer of operation began with a fortnight?long celebration of the 250th session, complete with a couple of evening programs highlighting Camp's history and daily tidbits from past issues of Woodland Echoes and other archival materials. It was not this historic milestone, however, but rather an unusual meteorological event which will stand as the most memorable episode of the summer. Just as First Session's Closing Ceremony was gettng underway in the chapel, suddenly the wind picked up and the electricity went out. Little did we know then how extensive or damaging the June 29 derecho storm would be.
Despite the continued power outage, Second Session began as scheduled two days later, although the unavailability of the PA system forced some changes to the procedure for checking in campers. (And in the days which followed, counselors announced hikes by unamplified voice from the Staff House porch at the beginning of recreation periods, and head male counselor Tony Walters admirably performed as the first live bugler in many a year.) We were fortunate that the buildings suffered no structural damage, and the generator behind the canteen powered the well pump and provided us with ample water.
While the campers had an unexpected chance to experience Nature Camp much as their predecessors had before 1970—without the creature comforts of fans in the bunkhouses and hot water in the T-houses—it was our cooks, Stephen Ackley and Adam Rotche, who faced the greatest challenge and bore the most stress. Though forced to prepare food by headlamp using only the gas stove and oven and cope with the absence of refrigeration, they exhibited tremendous creativity in modifying the menu, tenacity in working in a stiflingly hot kitchen, and resolve in continuing to turn out delicious meals under very trying and compromising circumstances. Just before dusk on the 4th of July, as the campers were enjoying s'mores on the playfield and settling in to listen to another account of Percy, a great cheer erupted among the throng as the power was restored.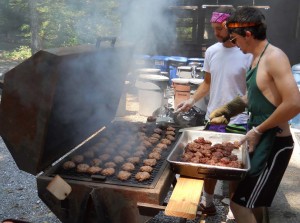 While not as dramatic or monumental, the rest of the summer was not without its highlights: a Sunday hike to Torry Ridge, reprising the first Sunday hike which Charles Thornton led in 1943; a new class in invertebrate biology; Amy Beaird's frequent, rhyming reminders to stay hydrated and endless "How Hot is It? (It's So Hot…) jokes; riveting games of Pinball Dodgeball and Quidditch on the playfield; dramatic presentations of "Harry Potter in Five Minutes" and The Wizard of Oz during counselor talent shows; and evening programs by former campers or counselors Graelyn Brashear, Jason Farr, Charles Hearn, David Kimbriel, Berangér LeFranc, Buck Trible, and Laurel Woodworth. Enrollment topped 340 campers for the fourth year in a row, with campers representing three different continents.
On behalf of Nature Camp, I thank all of you for your continued, invaluable and immeasurable support, which will no doubt enable Nature Camp's 71st summer to be just as exciting and fulfilling.
And an added note, in addition to the Nature Camp Foundation page, Nature Camp, Inc. is now officially on Facebook!! Find us at www.facebook.com/pages/Nature?Camp/324806714283350?ref=hl
-Philip Coulling, Nature Camp Director