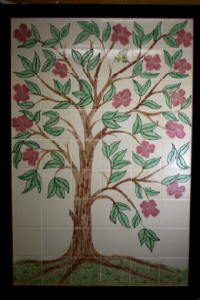 From the October 2010 Afterglow
A permanent display honoring donors to the Campaign For Nature Camp now hangs in the front room of the Staff house. The display features a blooming dogwood tree, made up of 52 hand painted tiles, that echoes the Nature Camp logo. The display was designed, painted and donated by Nell Jefferson Fredericksen.
Donors who gave in the giving levels of $1000 and above have their names featured on the different areas of the tree—the leaves, flowers, limbs, trunk and roots.
All members of the Nature Camp family are deeply grateful for the generosity of all our donors to the Campaign.
As you all know, Camp is flourishing and this would not have been possible without so much support from all of you.
Thank you.