To those who love Nature Camp: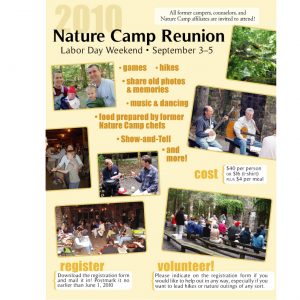 The Nature Camp Foundation is holding its semi-decadenal reunion during Labor Day weekend, the 3rd-5th of September, 2010.
The reunion is a chance for the young and the young at heart to gather together and share stories, relive old memories, and re-ignite old friendships. Anyone who was a former camper, counselor, or Nature Camp affiliate is invited to attend.
At the reunion, generations of nature campers will play games, go on hikes, share old photos and memories and have a great time getting reacquainted with a place that we have all called home at one time or another. Already the excitement for the reunion has grown since we announced it on the NCF website and facebook in January, however, we cannot accommodate an unlimited number of people, so the reunion committee has decided to level the playing field for those of us who are not connected to social networking websites. Included in this issue of the afterglow is a registration form for the reunion.  You can also download the registration form here.
If you are interested, we ask that you postmark the registration form (and payment if you are very certain that you will attend) no earlier than June 1st, 2010. After receiving your registration, we will contact you by phone or email to confirm and send you an itinerary for the weekend.
We will need a cadre of volunteers for the weekend, so please indicate on the registration form if you would like to help out in any way, especially if you want to lead hikes or nature outings of any sort. We look forward to seeing you there!!